The Andhra Pradesh state government's Municipal Administration & Urban Development department on Monday issued government order number 209 renaming Amaravati Metro Rail Corporation (AMRC) to Andhra Pradesh Metro Rail Corporation (APMRC) for implementing all current and future metro projects in the state.
AMRC was established in September 2015 as a special purpose vehicle (SPV) to implement Vijayawada's 26.03 km metro project with assistance from the Delhi Metro Rail Corporation. In March 2018, it was entrusted with the development of Visakhapatnam's 42.54 km metro project on the PPP (public–private partnership) model. Since then, both projects' proposed route lengths and number of lines have increased.
AMRC's Managing Director justified the name change (see #5 below) citing the organization's growing responsibilities and name changes elsewhere around India, such as Lucknow Metro Rail Corporation (LMRC) to Uttar Pradesh Metro Rail Corporation Ltd. (UPMRCL) in June 2018 and Nagpur Metro Rail Corporation Ltd. (NMRCL) to Maharashtra Metro Rail Corporation Ltd. (Maha-Metro) in January 2017.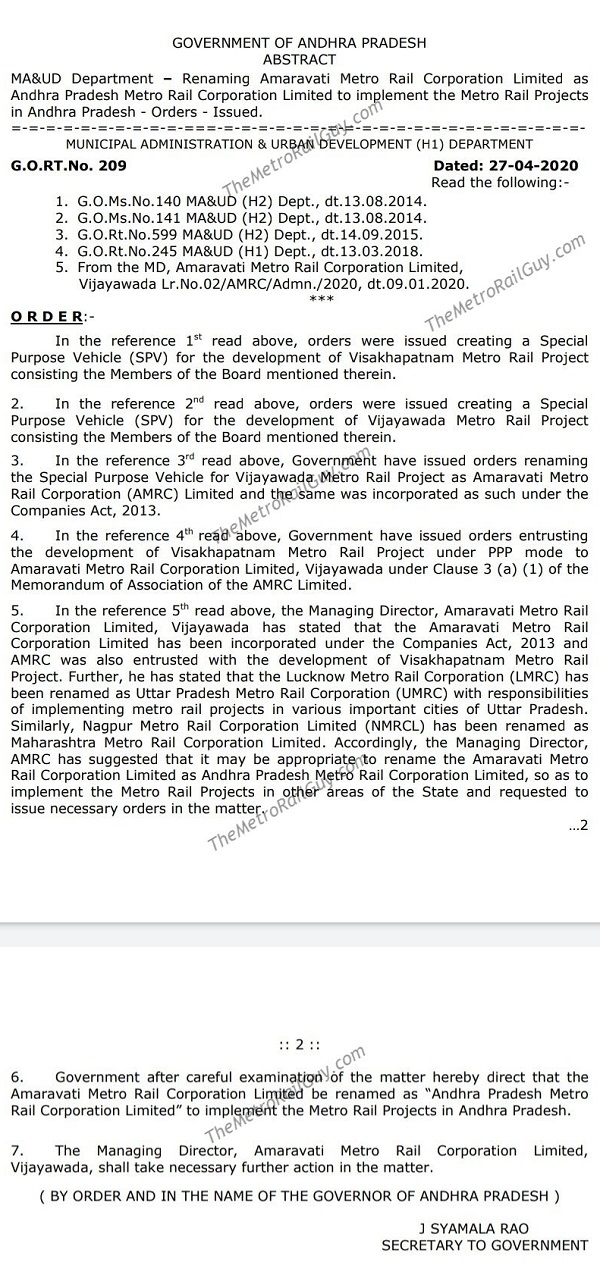 Besides the official reason provided, which is quite reasonable and something I'd support, another plausible reason I can think of is the toxic political rivalry between Telugu Desam Party (TDP) and YSR Congress Party (YSRCP) and the actions taken by both as a result of it.
The Amaravati new capital project and AMRC SPV were established and backed by the TDP party, but when the government changed hands in 2018, development of the new capital city was subjected to a review resulting in the voluntary termination of the joint project between the governments of Singapore and Andhra Pradesh in November 2019. This name change might very well be a part of that trend.
For more updates, check out the Vijayawada & Visakhapatnam sections of The Metro Rail Guy!
– TMRG