Rail Vikas Nigam Limited today invited bids from engineering design firms for the appointment of a Detailed Design Consultant (DDC) to assist with executing the mostly elevated 3.5 km Titurmir – Biman Bandar (Airport) section of Kolkata Metro's Line-6.
This section of the 32 km Line-6 (Kavi Subhash New Garia – Airport) was originally envisioned to be underground, but large-scale land acquisition for its ramp and station at Teghoria (named Rabindra Tirtha) forced RVNL to convert a large potion of it – barring an approximate 950m airport stretch – to an elevated line.
Contract: RVNL/KOL/TITUMIR-AIRPORT/ DDC/METRO
Scope: Detailed Design Consultancy Services including alignment finalization for approx 3.5 km length of metro viaduct, ramp down, underground portion & related works and approach spans of the stations (including common pier of viaduct & station at both ends of station), but excluding station areas from Pier No. 760 (near Titurmir Station) to Airport Metro Station in New Garia – Airport Corridor of Kolkata Metro Railway Line
Estimated Cost: Rs 1.40 crores
Period of Completion: 36 months
Pre-bid Meeting: 03/06/2020 at 11.30
Last Date to Submit: 17/07/2020 at 1100 hours
Bids to be Opened: 17/07/2020 at 1130 hours
Overall, this section includes 3 stations at Rabindra Tirtha (elevated), VIP Road (elevated) and Biman Bandar (underground) –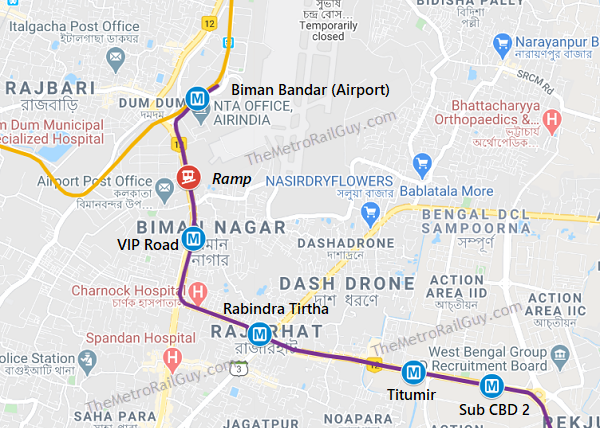 Per the tendering documents, the scope of this DDC contract includes 3 sub items:
A-1. Checking of alignment, redesign/readjustment of alignment as per site condition / incorporation of different facilities designed by other agencies, preparation of typical cross sections at cardinal locations and approval of the same from the competent authority
A-2. Design of Viaduct
(CH: 25900 approx.) to CP:801 (CH:27200approx.)
Length: 1300M (Approx.)
CP: 801 (CH: 27200 approx.) to start of ramp (CH:28450 approx)
Length: 1250M (approx.)
Note: Any redesigning of viaduct work if required from New Garia to pier no- 760 will be paid extra on proportionate rates per km basis derived from item A-2.
A-3. Design of Ramp/Underground
Start of Ramp (CH:28450) to end of Design Limit (CH: 29400)
Length: 950M (approx.)
The role of the assigned DDC would typically include, but is not limited to, producing and proposing alternate designs of all civil, architectural, building services, electrical and mechanical works.
The rest of Line-6 (New Garia – Titurmir) largely follows EM Bypass before entering Rajarhat and has been under construction since late-2013 with many visible gaps in construction.
Here are some images of the elevated section of the line I recently shared on Twitter –
For more updates, check out the Kolkata section of The Metro Rail Guy!
– TMRG
Sign Up to Receive Instant Notifications