Earlier this week, the Railway Board under the Ministry of Railways gave its in-principle approval for the 234.60 km Pune – Nashik Semi High-Speed Rail project that aims to connect both cities with a greenfield broad-gauge double-line at an estimated cost of Rs. 16,039 crore.
Maharashtra Rail Infrastructure Development Corporation Ltd (MRIDC), also known as MahaRail, will be executing the project for fast passenger and freight movement, with trains planned to run at a top speed of 200 kmph through 24 stations.
With this in-principle approval granted, MahaRail is now expected to begin pre-investment activities to secure funding for the project in order to achieve financial closure by inviting equity partners and exploring the possibility of developing the line on the public–private partnership (PPP) model.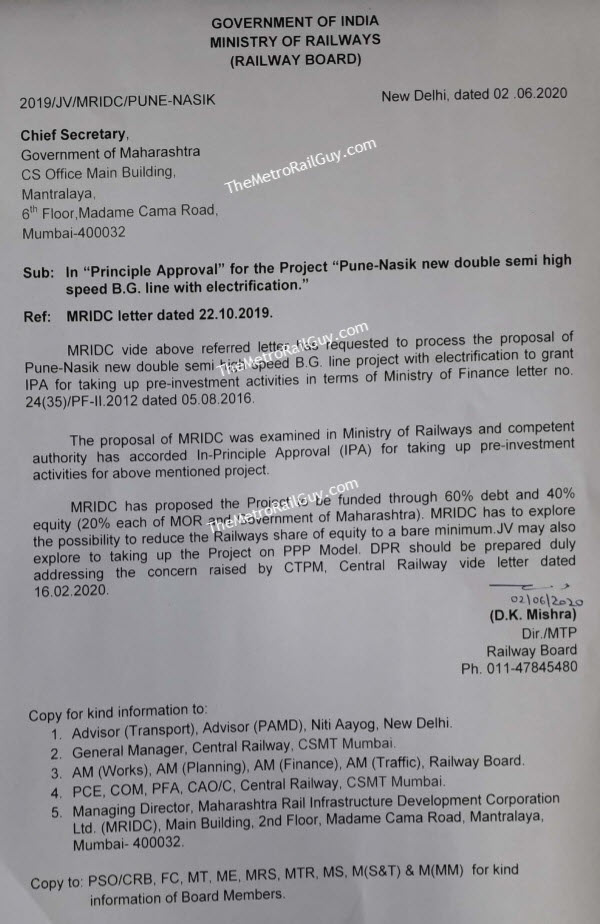 Passenger trains on the Pune – Nashik semi high speed rail line will operate with a top speed of 200 kmph (with future increment up to 250 kmph) and cover the distance between both cities in less than two hours while passing through the districts of Pune, Ahmedabad and Nashik.
Freight trains on the line will operate with a top speed of 100 kmph and open a new avenue for industrial development by connecting important MIDC areas such as Chakan, Sinnar Satpur, and Special Economic Zones (SEZ) in Khed, Narayangaon and Manchar.
MahaRail has plans to develop Private Freight Terminal (PFT), dry ports, multimodal and commercial hubs, warehouses and sidings at locations suggested by local industries.
24 stations are planned on the line at Pune, Hadapsar, Manjiri, Kolwadi, Wagholi, Alandi, Chakan, Rajgurunagar, Bhorwadi, Manchar, Narayangaon, Alephata, Bota, Jambut, Sakur, Ambhore, Sangamner, Devthan, Chas, Dodi, Sinnar, Mohadari, Shinde and Nashik Road.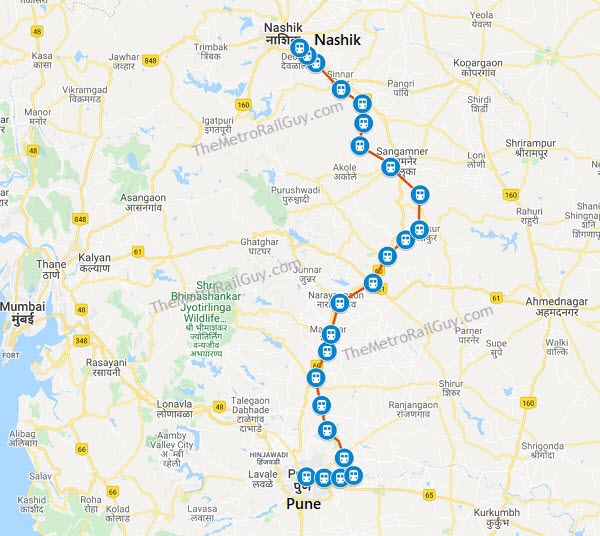 Infrastructure Highlights / Features
Land Acquisition: Approx. 1458.69 Hectares
Major & Minor stations: Total stations 24 ; 13 (Crossing Stations) & 11 (Flag)
Major River Crossings: 14
ROB/RUB: 41/128
Tunnels: 18
Total Tunnel: Length 21.68 Km [Length of Longest Tunnel = 6.64 Km]
Viaducts: 21 No including Hadapsar and Manjri
Total Viaduct Length: 27.48 Km [Length of Longest Viaduct = 3.12 Km]
Longest River Bridge: 268.4m Mula Mutha River
Canal Crossings: 12
Forest Area: Approx. 55.28 ha
Depot Details: 1 depot is proposed near Nashik Road Railway Station requiring 15 Hectares of land
System Standards / Specifications
Gauge : Broad Gauge 1676 mm
Ruling gradient : 1 in 150 (Compensated)
Maximum curvature : 0.4375 degree ( 4000 m radius)
Maximum Permissible Speed : 250 kmph
Maximum super elevation(Ca) 115 mm ( as per IRPWM para-406)
Design Loading: IRS 25T Axle load
Rails: 60 Kg (T-12) – Prime quality- 110 UTS
Sleeers: 60 kg PSC sleepers with 1660 Nos. per Km for main line, 1540 Nos. for loop line
Point and crossings : 1 in 16, 1 in 12 CMS crossings, thick web switches
with 60 kg rails on PSC Sleepers with fan-shaped layout in crossing stations connecting with main line and loop lines
Rail Joints : Primarily LWR Track with SWR on sharp curves and
at other obligatory locations
Ballast/ blanketing : 65 mm Ballast with 350mm cushion / 1000 mm
OHE and Traction : Electrified,2 x 25 KV AC Traction
Signalling & Telecommunication: ERTMS-II signalling with full compliments of EI, CTC, ETCS & LTE (4G) or 5G wireless communication system as applicable is proposed
Construction Period : 3 Years
Safety provisions : The stations and the locations where infringement
from outside is envisaged shall be barricaded.
This in-principle approval news is highly encouraging, but there's a long way to go before the project's Detailed Project Report is formally approved by all stakeholders, the biggest one being the Maharashtra state government's cabinet. With financial closure yet to be achieved, at this time, construction work is expected to begin no sooner than 2023.
For more updates, check out the Home Page of The Metro Rail Guy!
– TMRG