Per Live Hindustan, Uttarakhand's Unified Metropolitan Transport Authority (UMTA) on Thursday approved a Comprehensive Mobility Plan for the state that includes building the 73 km Dehradun – Rishikesh – Haridwar metro project.
The meeting was chaired by Uttarakhand's Chief Minister Trivendra Singh Rawat where the group also decided to build a personal rapid transit (PRT) system within Haridwar city and two ropeway projects from Har Ki Paudi to Maa Chandi Devi Temple and Neelkanth Mahadev Temple (Kotdwar) to Rishikesh.
The 73 km elevated and at-grade metro project is estimated to cost Rs. 550 crore per kilometre and will be built by the Uttarakhand Metro Rail, Urban Infrastructure & Buildings Construction Corporation Limited (UKMRC).
Uttarkhand's metro project will be built in two phases with two lines forming an interchange at Nepali Farm on the banks of Song River.
Phase 1 / Line-1: Haridwar – Rishikesh
Length: 32 km
Number of Stations: 10
Route Description: In Haridwar, the line is proposed to start near Jatwara Bridge in Jwalapur (western Haridwar), will then pass through Haridwar city, run parallel to the Haridwar-Rishikesh Highway (NH-34) and terminate at Chandrabhaga bridge in Rishikesh.
Phase 2 / Line-2: Dehradun (ISBT) – Nepali Farm
Length: 41 km
Route Description: From Nepali Farm, the line will follow NH-7 to connect up with Dehradun city's Inter-State Bus Terminal (ISBT) via the Vidhan Sabha.
Here's an indicative map of how both lines' alignment will look like: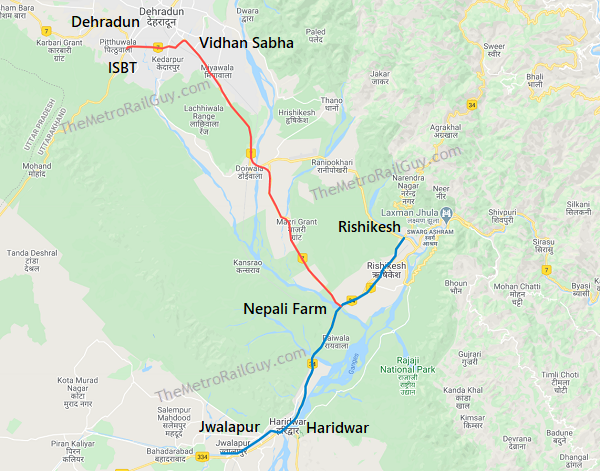 Back in December 2016, the Uttarakhand state government had signed a memorandum of understanding (MoU) with the Delhi Metro Rail Corporation to prepare the project's detailed project report (DPR).
Since then there's been little movement on the project, so this development is highly encouraging. Next steps include finalizing the project's Detailed Project Report (DPR) and getting it approved by all stakeholders to start pre-construction activities of seeking financing & acquiring land.
For more updates, check out the Uttarakhand section of The Metro Rail Guy!
– TMRG
Hat tip to Mohit Rathor