Delhi Metro Rail Corporation has commenced work for the preparation of a Detailed Project Report (DPR) for a 3 km extension of Noida Metro's Aqua Line from the Depot Station to Bodaki Railway Station of Chamrawali Bodaki Village.
To assist with the DPR's preparation, the DMRC on June 18 invited bids for a holistic traffic and transportation study, with a last date to submit bids of July 1, 2020. I won't be tracking its bidders or winner, but if you're interested then just drop a comment below or shoot me a mail.
Greater Noida Authority on May 31, 2019 had approved the preparation of feasibility studies and subsequently DPRs for the Aqua Line's Bodaki extension and for a new 15 km line from Sector 142 to Botanical Garden. Following that, Noida Metro Rail Corporation (NMRC) requested proposals from RITES and DMRC, and appointed DMRC in July 2019 based on their lower fees.
With the feasibility report prepared and seemingly approved, DMRC has now moved on to preparing the extension's Detailed Project Report.
Here's a map from the tender document which shows the extension in red in the bottom right corner with 2 stations at Junpat Village and Bodaki Railway Station. This is unfortunately the highest resolution size available.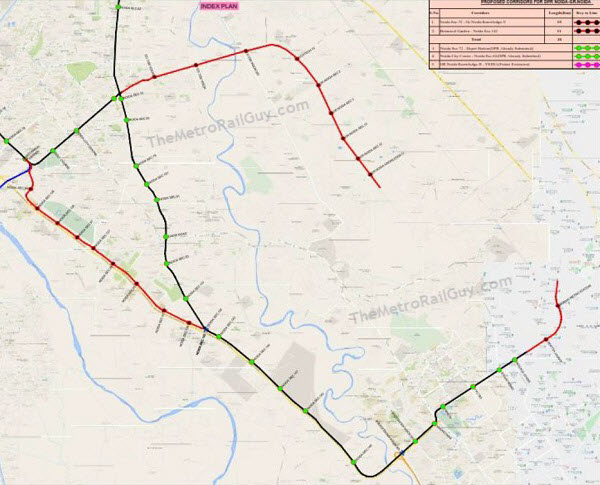 I've mapped the extension below: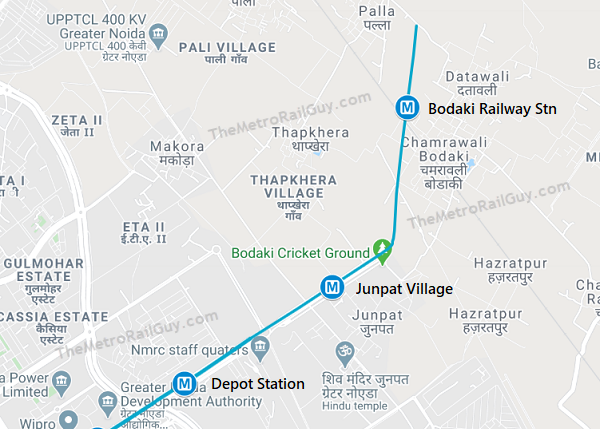 Bodaki is on the northern corner of a new industrial township being developed on 345 hectares by the Integrated Industrial Township Greater Noida (IITGN) as part of the Delhi – Mumbai Industrial Corridor (DMIC)'s Dadri-Noida-Ghaziabad Investment Region.
This is also where a new Inter-State Bus Terminal (ISBT) and multi-modal logistics hub (freight village) is planned at the intersection of the Western Dedicated Freight Corridor (WDFC) to Mumbai and Eastern Dedicated Freight Corridor (EDFC) to Kolkata.
Some details from the tender document –
The Traffic & Transportation aspect of this work involves collection of socioeconomic, land use, traffic & travel data from secondary sources as well as conducting primary traffic & travel surveys. Scope can be divided into two segments:
Up-dation of passenger forecasting of existing Noida Metro corridor (Aqua Line) from Noida Sector-51 to Depot Station and Noida City Center to Noida Electronic City.
Up-dation of passenger forecasting of proposed Noida Metro Corridors from Noida Sector-71/51 to Greater Noida (Knowledge Park-V) and Botanical Garden to Noida Sector-142
The second segment mainly comprises of traffic data collection for the proposed metro corridor for extension of Noida Metro Rail Corridor (Aqua Line) from Depot Station to Bodaki Railway Station and realistic assessment of traffic on the proposed network.
The consultant has to assess:
Baseline total and assigned traffic onto the system across horizon years
Metro ridership and passenger km across horizon years
PHPDT (peak sectional load) across horizon years
Corridor wise ridership across horizon years
Different station loadings (boarding, alighting numbers) across horizon years
Unidirectional station boarding and alighting in the peak hour giving sectional load in peak hour
Base network, traffic and travel characteristics amidst a multi model setup
The dynamics of traffic shift to the proposed system in wake of competing modes across horizon years
The V/C ratio of all the proposed corridors before & after metro system is in place
The study shall be based on analysis of:
Review of the existing travel pattern
Review of network usage pattern by different modes
Review of existing transport facilities (all competing modes)
Review of the zoning system
Network plan and the specified project corridor
Hourly classified volume counts
Origin Destination (O-D) matrices – consolidated and mode-wise
Existing public transport network and their specific movement along the project corridor
Competing transport modes
Average Trip Lengths for various categories of vehicles
For more updates, check out the Noida – Greater Noida section of The Metro Rail Guy!
– TMRG