Uttar Pradesh Metro Rail Corporation (UPMRC) today invited bids from construction companies to build the first package of the 32.385 km Kanpur Metro Phase 1 project's 8.621 km underground section.
Excluding the ramp, this package (KNPCC-05) of the 23.785 km Line-1 connecting IIT Kanpur – Naubasta has a length of 3619 meters and includes four stations at Chunniganj, Naveen Market, Bada Chauraha and Nayaganj – each 215 meters long.
Tender No: UPMRC/CE-Contract/KNPRCC-05/2020
Scope: Design and Construction of Tunnel from start of elevated ramp (after Motijheel Station) to end of Nayaganj station including four underground metro stations (viz. Chunniganj, Naveen Market, Bada Chauraha and Nayaganj) and ramp including Architectureal finishes, E&M, TVS, ECS etc. on Corridor-1 of Kanpur MRTS Project at Kanpur, Uttar Pradesh, India
Estimated Cost: Rs. 1400 crore
Period of Work: 36 months (3 years)
Document Sale Start Date: 10.07.2020
Document Sale End Date: 10.08.2020
Pre-bid Meeting: 13.08.2020 @ 15:00 Hrs
Bid Submission End Date: 18.09.2020 @ 15:00 Hrs.
Date & Time of Tender Opening: 18.09.2020 @ 15:30 Hrs.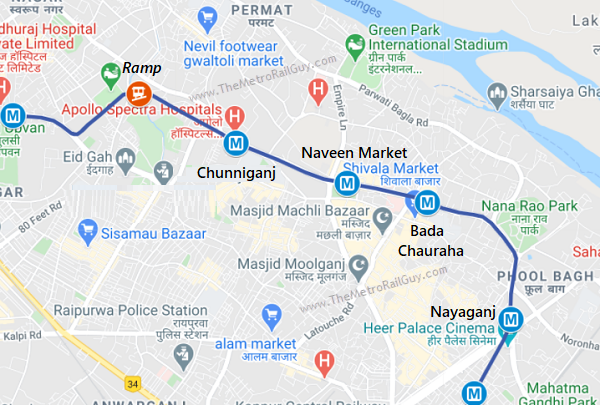 Approximate tunnel drive lengths:
Ramp to tunnel's start (shaft): unknown
Shaft – Chunniganj Station: 504 meters
Chunniganj Station – Naveen Market Station: 750 meters
Naveen Market Station – Bada Chauraha Station: 515 meters
Bada Chauraha Station – Nayaganj Station: 990 meters
This section of the Line-1 will be partly financed by the European Investment Bank (EIB) through a €650 million (approx. Rs. 5406.50 crore) loan. The next underground package, south-east of KNPCC-05, will be roughly 4.5 km long and consist of another 4 stations planned to be named as Birhana Road, Norona Crossing Sagar Market, Kanpur Central Railway Station and ISBT Jhakarkatti.
For more updates, check out the Kanpur section of The Metro Rail Guy!
– TMRG