Per the updated website of the Asian Infrastructure Investment Bank (AIIB), the bank on June 5 cleared a loan concept to officially begin evaluation on a $400 million (approx. Rs. 2979 crore) loan for the 121.742 km Haryana Orbital Rail Corridor (HORC) project.
The HORC project, with additional spur lines of 20 kms, aims to connect Harsana Kalan village in Sonipat with Asaoti in Palwal through 17 stations along the Kundli – Manesar – Palwal (KMP) Expressway at an estimated cost of Rs. 4,822.69 crore.
Passenger trains on this new broad gauge semi high-speed rail line will operate with a top speed of 160 kmph, with an annual capacity to carry 8 million passengers and 60 million tons of freight.
Per AIIB, the Project components to be financed by AIIB are:
Component 1: General Consultant (GC)/ Project Management Consultant (PMC)
Component 2: Civil Works including tunnel, bridges, embankment, stations and the land acquisition
Component 3: Track works
Component 4: Railway systems including Electrification works, Signalling and Telecommunication (S&T) works
With the loan's concept now approved, its officials are now expected to conduct a fact-finding mission in the coming months and then place the loan for a formal approval by the bank's board by the year-end.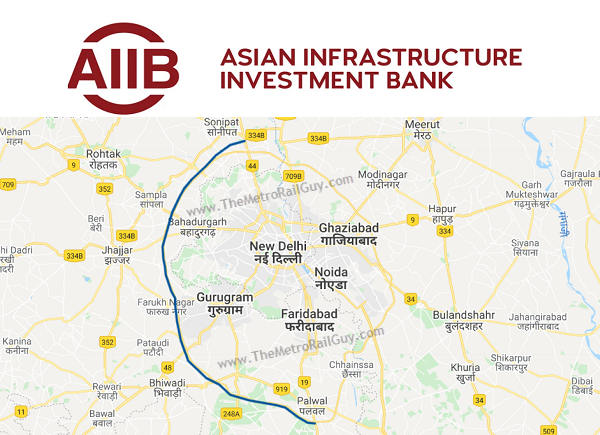 The HORC project will be executed by the Haryana Rail Infrastructure Development Corporation (HRIDC) – a joint-venture of the Government of Haryana (GoH) and Indian Ministry of Railways (MoR) incorporated in August 2017.
Trains (rolling stock) and their related services are planned to be provided and operated by the Indian Railways. This new rail corridor aims to bypass Delhi and provide interchange connectivity with the Indian Railways' main radial routes (eg. Delhi – Rohtak, Delhi – Ambala), the Dedicated Freight Corridor (DFC) at Pirthala (near Palwal), and the 106.5 km Delhi – SNB RRTS Line at Panchgaon.
While the line's alignment is still under finalization, trains are planned to travel via Sohna, Manesar and Kharkoda through 14 new and 3 existing stations. Freight trains will link major logistic hubs through spur lines totaling roughly 20 km and will adopt the Dedicated Freight Corridor standard for freight movement.
The 3 existing stations to be utilized are located at Asaoti, Pirthala Yard and Harsana Kalan. A list of 14 new stations hasn't been revealed yet, but can be expected to come up at or near Tarakpur, Asoada, Mandhoti, Badli, Sultanpur, Patli, Manesar, Panchgaon, Chandla Dungerwas and IMT Sohna as shown below: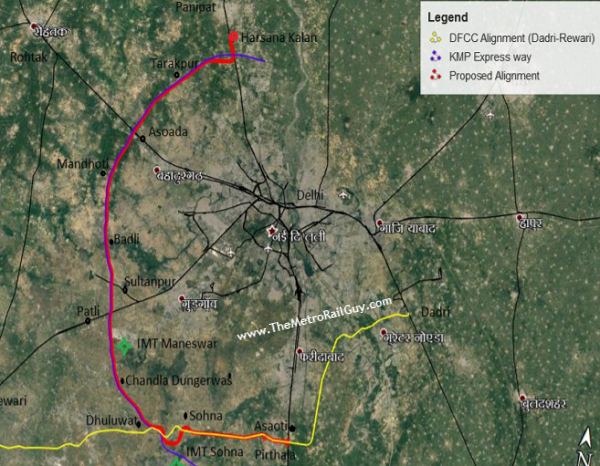 The project's feasibility report was prepared by Aarvee Associates in February 2019, and the project is currently awaiting formal approvals from the Ministry of Railways and Government of Haryana. On Monday, HRIDC invited expression of interest (EOI) applications to appoint a General Consultant.
Besides the HORC project, AIIB is currently also evaluating loans for the following transport projects in India:
For more updates, check out the Haryana Orbital Rail section of The Metro Rail Guy!
– TMRG