December 2 Update: Quality Buildcon has been awarded New ISBT Depot's construction contract by DMRC with a value of Rs. 143.35 crore.
Original Post:
Quality Buildcon today emerged as the lowest bidder for constructing the 30.91 km Patna Metro Phase 1 project's New ISBT Depot after officials from Delhi Metro Rail Corporation (DMRC) opened financial bids submitted by different construction firms.
DMRC invited tenders for this depot's construction on April 16, 2020 with an estimated cost of Rs 172.18 crore and opened technical bids on June 9 to reveal 7 bidders. Of those, Pinax Steel Industries' bid was not admitted by the finance team, so their technical bid was not evaluated.
| | |
| --- | --- |
| Firm | Bid |
| Quality Buildcon Pvt. Ltd. | Rs. 143.35 crore |
| Lisha Engineers Pvt. Ltd. | Rs. 149.82 crore |
| Dineshchandra R. Agrawal Infracon Pvt. Ltd. | Rs. 184.38 crore |
| Sam (India) Builtwell Pvt. Ltd. | Rs. 188.89 crore |
| YFC Projects Pvt. Ltd. | Rs. 189.94 crore |
| URC Constructon Pvt. Ltd. | Rs. 224.39 crore |
Contract: PC-02
Completion Period: 30 months.
Scope: Civil works for construction of New ISBT Rail Depot including earth filling, boundary wall, depot buildings, workshop, inspection shed, plumbing, drainage, external development, architectural finishes, road works, design and construction of PEB works etc. at New ISBT Patna for Phase-I of Patna MRTS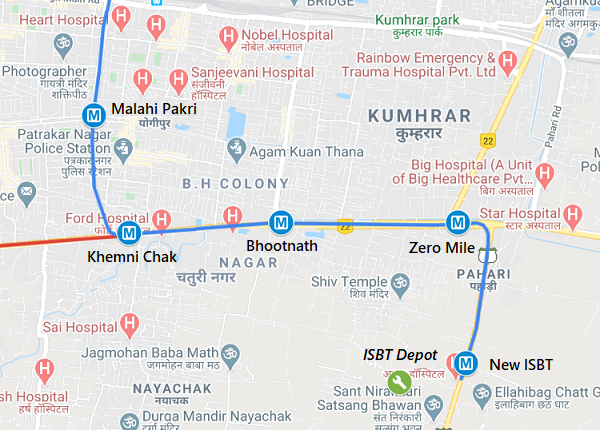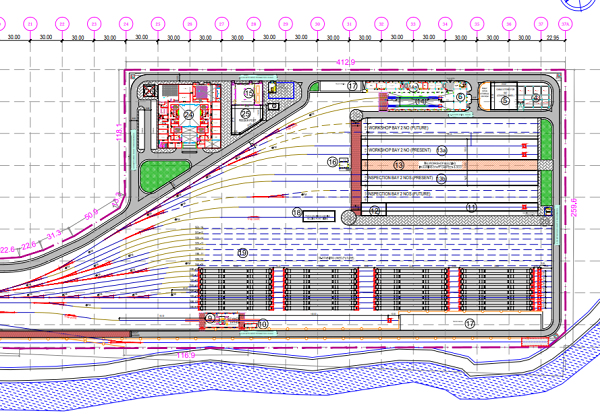 The New ISBT Depot was earlier only going to serve the 14.05 km Line-2 connecting Patna Junction Railway Station – New ISBT, but a modification to the 30.91 km Phase 1 project's Detailed Project Report in Q4 2019 resulted in the creation of a new interchange at Khemni Chak, addition of 2 new stations (total of 26 now), and elimination of Line-1's depot at Aitwarpur Village. Trains for both lines will now be stabled and maintained at the New ISBT Depot.
The depot will consist of 2 workshop bays with provision for 2 in the future, 2 inspection bays with provision for 2 in the future, 8 stabling lines which can accommodate 32 3-coach trains, an auto coach washing plan. The administrative area will consist of an audiotorium, training school, canteen and operational control centre (OCC).
If no issues arise during financial bid evaluation, then Quality Buildcon will go on to be awarded with Patna Metro's first major civil construction contract in the coming weeks. Some of their recent projects have included building Delhi Metro Violet Line's Ajronda Depot (package CC-33) in Faridabad and the Green Line's depot-line (package CC-43A) in Bahadurgarh.
For more updates, check out the Patna section of The Metro Rail Guy!
– TMRG