Haryana Government on Thursday announced its cabinet had approved the final Detailed Project Report (DPR) for a 28.80 km elevated metro line in Gurugram (Gurgaon) connecting HUDA City Centre with Moulsari Avenue in DLF Cybercity through 27 stations at an estimated cost of Rs. 6821.13 crore.
The Haryana government had appointed the Delhi Metro Rail Corporation (DMRC) in June 2016 to prepare this line's techno-economic feasibility report (TEFR) and appointed a consortium of RITES and School of Planning and Architecture (SPA) in late-2017 to prepare its Detailed Project Report (DPR).
The state government and local media have been notorious in announcing approvals, sometimes even stretching decisions as approvals, for various new metro lines over the past decade (200 kms proposed) without an official approval being accorded, but this time the approval comes with an official press release by the government's PR department which lends some credibility.
Here's the press release:
To provide Metro Connectivity to the residents of old Gurugram, Haryana Cabinet accorded approval for final Detailed Project Report (DPR) of Metro Rail Connection from HUDA City Centre to various important locations in Gurugram at a cost Rs. 6821.13 crore. The total length of the corridor shall be about 28.80 km, consisting of 27 elevated stations with six interchange stations. This link would start at HUDA City Centre and move towards Sector 45, Cyber Park, District Shopping Centre, Sector 47, Subhash Chowk, Sector 48, Sector 72 A, Hero Honda Chowk, Udyog Vihar Phase 6, Sector 10, Sector 37, Basai village, Sector 9, Sector 7, Sector 4, Sector 5, Ashok Vihar, Sector 3, Bajghera Road, Palam Vihar Extension, Palam Vihar, Sector 23 A, Sector 22, Udyog Vihar Phase 4, Udyog Vihar Phase 5 and finally merge in existing metro network of Rapid Metrorail Gurugram, at Moulsar Avenue station near Cyber City.

This Mass Rapid Transit System (MRTS) project will facilitate maximum part of Gurugram city. It will interchange with MRTS Corridor at Subhash Chowk, with Bus Stand at Sector 10, with Railway Station at Sector 5 and with Rapid Metro at Moulsari Avenue Station.

MRTS Corridor at Subhash Chowk will interchange with yellow line at HUDA City Centre and therefore, will provide direct connectivity to a large part of Gurugram with Delhi. The daily ridership on the study corridor for the years 2025, 2031 and 2041 is expected to be 5.34 lakh passenger trips, 7.26 lakh passenger trips and 8.81 passenger trips respectively.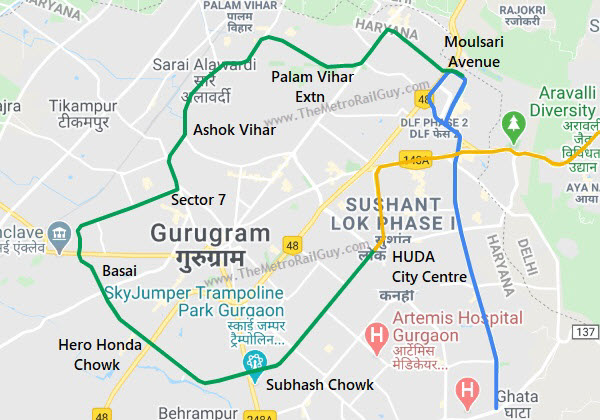 The line will pass right by the under construction Dwarka Expressway in New Gurgaon.
The official DPR file has not been shared, so details about the line's funding sources/split, depot location, construction suggestion (U-girder or segmental box girder), and train operational plan etc. remain unknown.
The press release mentions the line will "interchange with yellow line at HUDA City Centre" which indicates it'll be an entirely new line executed and operated by Haryana Mass Rapid Transport Corporation Limited (HMRTC), and will not operated by the Delhi Metro Rail Corporation (DMRC) as an extension of the existing Yellow Line.
At Udyog Vihar, I imagine the line will have an interchange facility to switch over to the 106 km Delhi – SNB RRTS line which in the future will connect Delhi's Sarai Kale Khan with Shahjahanpur, Neemrana and Behror in Rajasthan through 17 stations.
I consider the past 10 years to be a lost decade for Gurgaon, so while this news is encouraging, I'll be entirely convinced only when I see a tender notice for appointing its Detailed Design Consultant (DDC) or General Consultant (GC).
For more updates, check out the Gurgaon section of The Metro Rail Guy!
– TMRG