Following a construction site collapse in mid-August, the Delhi Metro Rail Corporation (DMRC) on Monday invited bids from construction firms for the completion of a small 289.65 meter cut and cover tunnel on the 1.218 km Najafgarh – Dhansa Bus Stand extension project of the Delhi Metro's 4.295 km Grey Line.
This underground tunnel of the Phase 3 project's Package CC-126 was originally awarded to Shanghai Tunnel Engineering Co. Ltd. – SUCG Infrastructure India Pvt Ltd (STEC – SUCG IN JV) in October 2017, and tunneling breakthroughs were recorded by the team using one tunnel boring machine (TBM) on January 18 and June 26, 2019.
My industry sources indicate that a construction site collapse occurred on a 90 meter wide cut and cover portion due to heavy rainfall and ingress of water at the extreme western end of the line, and due to that the DMRC removed a 289.65 meter portion of the up-line tunnel's construction from STEC – SUCG IN JV's scope of works.
Contract: CC-126A
Brief Scope: Construction of Cut and Cover tunnel box from Chainage 5050.35 (UP Line) to 5340.00 (UP line) for extension of Dwarka Najafgarh Metro Corridor of Delhi MRTS Phase-III
Approximate Cost: Rs. 48.99 crore
Completion Period: 120 days
Pre-bid Meeting: 24-Sep-2020 11:00 AM
Date & Time of Submission of Tenders: 12-Oct-2020 03:00 PM
Bid Opening Date: 13-Oct-2020 03:00 PM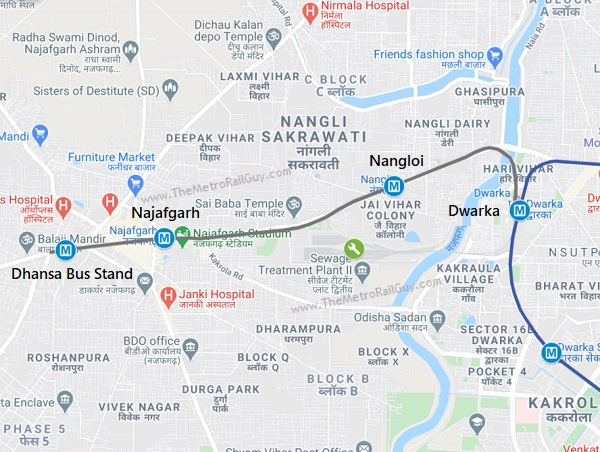 Detailed Scope from Tender Document
The work includes construction of cut and cover tunnel box, Installation of Micro piling, stabilization of soil by injecting cement grout in the space between building line and soldier pile, excavation in confined space for tunnel construction, re-excavation of backfilled area by previous agency, fabrication and erection of temporary structural supporting arrangement, monitoring of adjacent buildings, waterproofing of Tunnel box, backfilling, road restoration, diversion/protection of utilities etc. The construction of cut and cover tunnel box has to be done in close vicinity of shops and residential complexes, therefore special care to be taken during execution. The design of Permanent and temporary works for civil construction shall be provided by DMRC.
The Scope of works shall, inter-alia, include the following but not be limited to:
The site clearance for the placement of the contractor's own equipment, plant and machinery etc. to carry out the works before commencement of work or as directed.
True and proper setting out and layout of works, bench marks and provision of all necessary labour, instruments and appliances in connection therewith as specified or directed.
Construction of RCC Cut and Cover tunnel box by using Bottom up Technology including
Waterproofing as per Tender drawing and Outline Construction specifications.
The scope of work includes all civil works related to construction of cut and cover RCC tunnel box for above mentioned Chainage. However following works has already been executed by previous agency:

Timber lagging in approximate 180 m length.
Construction of RCC Tunnel Box from Chainage 5050.35 (UP Line) to 5107.00 (UP Line) except cut out in roof having size 20 m x 7 m.
Construction of Base slab including side walls from Chainage 5254 (UP line) to 5275 (UP line).
Installation of Soldier piles in entire section.
Fixing of Temporary structure i.e. Wailer & struts from Chainage 5050.35 (UP Line) to 5134 (UP Line) and Chainage 5210 (UP Line) to 5300 (UP Line).
Decking fixed in entire section however some deck panels have been removed.

Installation of Micro piling and stabilization of soil with cement grout in the space between building line and soldier pile as per requirement or as directed by Engineer.
Excavation in confined space as per drawing including fabrication and erection of temporary structural supporting arrangements. Re-excavation of area which was backfilled by previous agency.
Monitoring of adjacent buildings, ground settlements, soldier piles, Strut and Wailer, kingposts etc. Preparation and submission of monitoring scheme and its approval from DMRC. Instrumentation scheme shall be implemented at site by appointing a specialized agency and the same is payable as per BOQ.
Backfilling as per specification, road restoration, Construction of RCC box shape nallah (approx. 580m) and diversion/protection of utilities if any.
Rectification of timber lagging damaged due to ingress of water in excavated area by fixing MS sheet/Timber lagging between soldier piles.
Fixing MS sheet between Soldier pile for retaining of earth (New excavation).
Retrieval of soldier piles, wooden lagging, strut and wailer, decking, king post, machineries etc. of previous agency including handing over of the same to the contractor of Contract CC-126.
The works needs to be carried out adjacent to private buildings/shops. Special care should be taken while executing the piling and other construction works.
Day to day cleaning of works, Maintenance of diverted roads and adjacent roads including deployment of Traffic Marshal, Traffic Signages etc. throughout the execution period.
Clearing of site and handing over of all the works, as specified or as directed.
Other Developmental works.
Installation of construction decking to facilitate the excavation and other works.
This extension is among the last 3 pending sections of the 162 km Phase 3 project that will open up in 2021-2022.
Line-7 –

Pink Line

: Mayur Vihar Pocket 1 – Trilokpuri (1.38 km)
Line-9 –

Grey Line

: Najafgarh – Dhansa Bus Stand (1.218 km, 1 station)

Airport Express Line

: Dwarka Sec-21 – Dwarka ECC Sector-25 (1.878 km, 1 station)
For more updates, check out the Delhi section of The Metro Rail Guy!
– TMRG