Sam (India) Builtwell Pvt. Ltd. on Tuesday was awarded a Rs. 150 crore contract for architectural and interior finishing works at nine elevated stations on the 8.728 km priority corridor of Kanpur Metro's 23.785 km Line-1 between IIT Kanpur and Motijheel.
Afcons Infrastructure is rapidly building this section's civil structure through a Rs 734.56 crore contract for Package KNPCC-02R awarded in September 2019. As they complete each station, they will hand over the site to Sam India to perform architectural finishing which typically includes site development, water/sanitary installations, fire fighting, electrical & mechanical works and installation of pre-engineered roofs.
Uttar Pradesh Metro Rail Corporation (UPMRC) invited bids for this package, the third major civil-related package of the Phase 1 project, in February 2020 with an estimated cost of Rs. 135 crore and completion period of 14 months. Technical bids were opened on July 7 to reveal two bidders – Sam India and Rama Civil India Construction. Evaluation was completed on August 25 and financial bids were opened sometime in early September.
Package: KNPCC-04
Brief Scope: Civil, Architectural Finishes, Water Supply, Sanitary installation, Drainage, External Development, Fire fighting, Fire detection, E&M works and PEB structures for Nine nos. Elevated metro stations (from IIT Kanpur to Motijheel Metro Station) on priority section of Kanpur Metro at Kanpur, Uttar Pradesh, India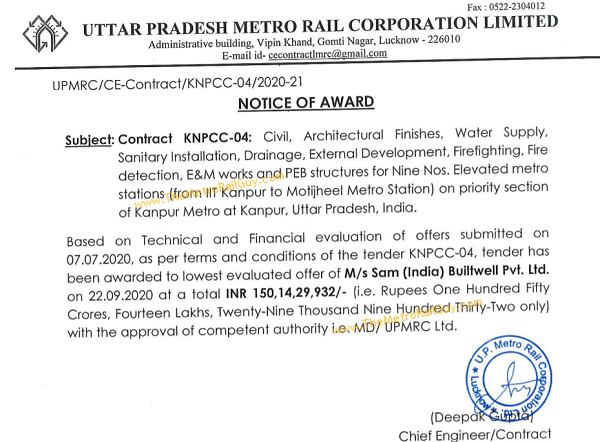 The 9 stations in this package are located on NH34 (GT Road) at IIT Kanpur, Kalyanpur Railway Station, SPM Hospital, CSJM Kanpur University, Gurudev Chauraha, Geeta Nagar, Rawatpur Railway Station, Lala Lajpat Rai Hospital and Moti Jheel.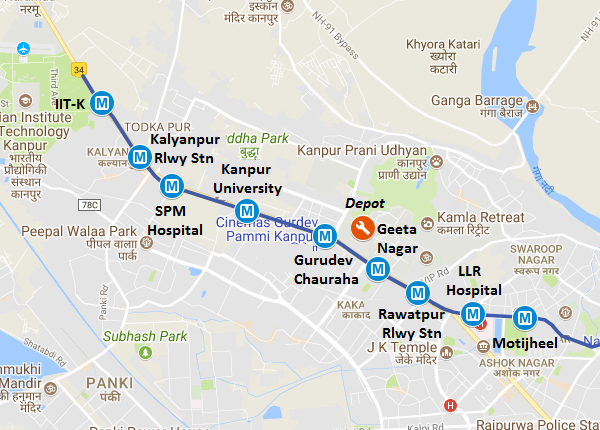 UPMRC has not revealed these stations' design, but looking at Lucknow Metro, I'm sure they'll be aesthetically pleasing.
Here are recent snaps of the line's viaduct shared by UPMRCL on Twitter. They claim Afcons Infra has erected 50 U-girders within 36 days since launching works began in August.
For more updates, check out the Kanpur & Agra sections of The Metro Rail Guy!
– TMRG