TUV India Pvt. Ltd. – the Indian subsidiary of Germany's TÜV Nord Group – announced it has been appointed as the Independent Safety Assessor (ISA) for Pune Metro's under construction 31.254 km Phase 1 project which'll consist of two lines and 29 stations.
TUV stated it will provide independent third party services for inspection and certification of Pune Metro's Titagarh Firema rolling stock (coaches) and its sub-systems. Information on what this assessment is and why it's important can be viewed here.
After TUV certifies the project's rolling stock, Maharashtra Metro Rail Corporation Limited (Maha-Metro) will then invite the Commissioner for Metro Rail Safety (CMRS) to visit, inspect and certify the line's systems fit for operations.
I'm not sure when Maha-Metro invited bids for this contract. Per their November 2019 newsletter (see page 3), they had appointed "Bureau Veritas as Independent Safety Assessor (ISA) for independent safety assessment of various systems of the project at all stages. On 18 Nov 2019, kickoff meeting was held with ISA and other project stakeholders. Interface & Coordination requirements were outlined during the meeting."
So either Bureau Veritas subcontracted ISA works to TUV India (which is unheard of) or Maha-Metro has separately awarded an ISA contract just for the rolling stock's certification.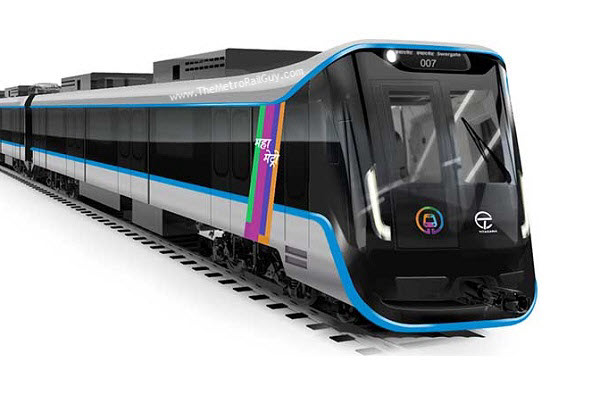 The contract for Pune Metro's 102 coach rolling stock contract was awarded to Titagarh Firema in August 2019 with a value of approximately Rs. 1125 crore. The first train-set is expected to arrive from Italy in mid-2021. More design renderings, details and a video on it can be viewed here.
Meanwhile, construction work on the first section of the 16.589 km Purple Line, the 10.795 km Reach-1 connecting PCMC-Range Hills, is moving along but there are large gaps south of Dapodi Station – view a cool drone view of Reach 1 shot in July here. This section is necessary to be completed as the line's train maintenance depot at Range Hills is at its extreme southern-end without which operations cannot begin.
Per MahaMetro, track-work and OHE installation works are underway on the completed PCMC – Dapodi northern-section which spans approximately 6 km. Here's a recent tweet with images of finishing works underway at Sant Tukaram Station:
For more updates, check out the Pune section of The Metro Rail Guy!
– TMRG