Last night, the Indian government's Secretary of the Ministry of Housing & Urban Affairs (MoHUA) tweeted that the ministry had issued standard specifications for MetroNeo – a new low-cost electric trolleybus-based transit system aimed to built in cities with a population of less than 10 lakh (tier-3) and suburbs of bigger cities.
This new system will run on rubber tyres and draw power from overhead electrification (OHE) wires. The system is currently on the drawing board in Warangal in Telangana, and was approved by Maharashtra's cabinet in August 2019 for implementation in Nashik with two routes totaling 32 kms. Its Detailed Project Report was prepared by RITES and is currently pending MoHUA's review and approval from the Central Government's cabinet.
Here are some concept designs prepared by Enia Design for Nashik's MetroNeo project: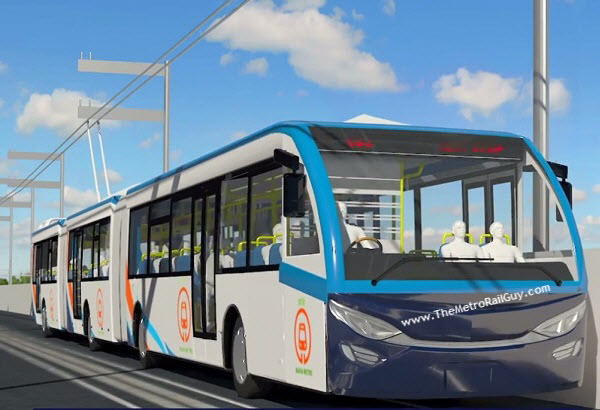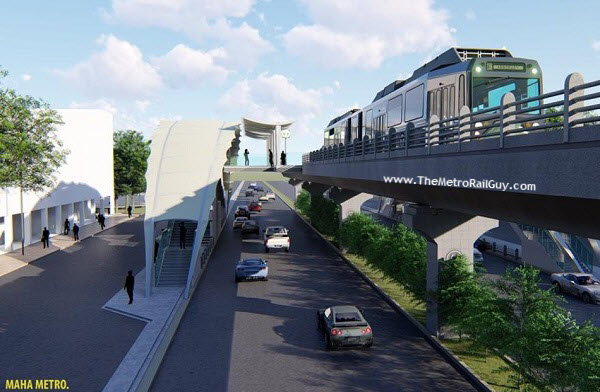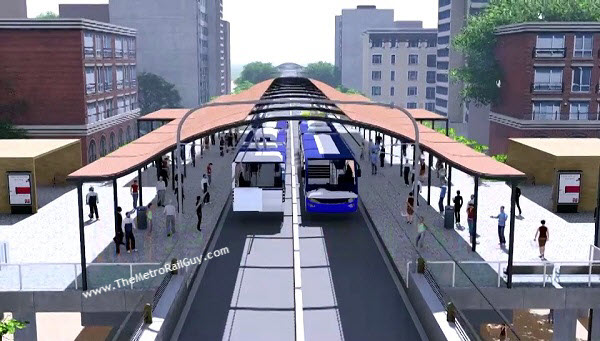 I don't see the specifications on MoHUA's website, so until then below is a verbatim list of information shared by the Secretary with information on how metroneo compares to regular metro and metrolite (light rail) systems.
This new system is planned to be officially launched on this coming Monday at the government's 13th Urban Mobility India conference, so maybe we'll see more information pour out then.
Highlights
Ministry has issued Standard Specifications for MetroNeo suited for tier-2 cities or outer areas of tier-1/ mega cities with projected Per Hour Per Direction Traffic (PHPDT) for next two decades upto 10,000 today.
Technologies of this system are already in use in several cities around the world. MetroNeo is rubber tyred coaches based MRTS, powered by overhead electric traction, running on elevated/dedicated Right-of-Way, having simpler two tiered stations.
Coaches and stations will be equipped with all required modern amenities. We shall promote manufacture of its various subsystems in the country under #AatmaNirbharBharat campaign to boost economic growth.
MetroNeo will provide similar travel experience of safe, secure, comfortable, convenient, punctual & affordable eco-friendly commuting as Metro with just around 20-25% of its cost on capital expenditure and far less on operations.
Ministry issued standard specifications of MetroLite (view here), which costs around 40-50% of Metro Rail System and much reduced cost on operations for cities with projected PHPDT upto 15,000 in 2019. This has attracted many tier-1 cities with population upto 10 lakh.
MetroNeo will enable several other cities with population upto 5 lakh to aspire to get such viable mass rapid transit system as soon as possible. MetroNeo system will be formally launched by Hon'ble MoS(IC), MoHUA on 9th Nov, 2020 in UMI Conference.
Here's a concept video prepared by Maharashtra Metro Rail Corporation Limited (Maha-Metro). Information on Nashik's MetroNeo project with route information, map and stations names can viewed here.
For more updates, check out the Home Page of The Metro Rail Guy!
– TMRG