Six firms have submitted tenders (bids) for substation and cabling works of Patna Metro's 30.91 km Phase 1 project, after officials from the Delhi Metro Rail Corporation (DMRC) opened tenders today afternoon for Package PE-01 to reveal its list of bidders.
This is Patna Metro's very first systems-related package of Phase 1 which will feature two mostly-elevated lines with 24 stations including 2 interchanges at Khemni Chak and Patna Junction Railway Station.
It is also the first of multiple electrification-work related packages. The next tender notice for electrification works, which is yet to be published, will be for its 25-kV overhead equipment (OHE), 33-kV auxiliary power supply system, and supervisory control and data acquisition (SCADA) system.
DMRC invited bids for this package in September with an estimate of Rs 116.74 crore and completion period of 36 months (3 years).
Bidders:
Kanohar Electricals Ltd.
Kanti Prasad Mittal
KEC International Ltd.
Linxon India Pvt. Ltd.
Siemens Ltd.
Sterling and Wilson Pvt. Ltd.
Contract: PE-01
Scope: Design, Supply, Installation, Testing and Commissioning of Receiving cum Traction (RSS + TSS) and Auxiliary Main Substation (ASS) including High Voltage Cabling from Grid Substation for Patna Metro Rail Project.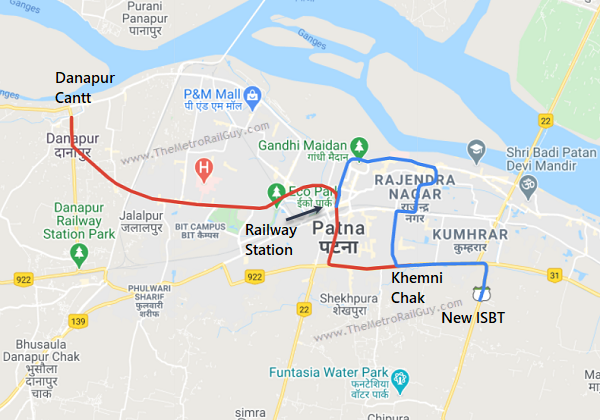 The bids have now been sent for technical evaluation which can take a couple months to complete. When that is done, the financial bids of the technically qualified bidders will be opened to reveal who's the lowest bidder and most likely contractor for this electrification package.
Back in September, NCC was awarded Line-2's first civil contract for the 6.107 km Malahi Pakri – New ISBT section (Package PC-01), and piling work is expected to begin anytime now.
The bid submission deadline for Line-1's first contract (Package PC-04), connecting Danapur with Patliputra Ramp and Mithapur Ramp with Khemni Chak, is coming up on November 20. Stay tuned to find out its bidders!
For more updates, check out the Patna section of The Metro Rail Guy!
– TMRG