Four construction firms have submitted tenders (bids) to build the roughly 8 km package PC-04 of Patna Metro Phase 1's 16.86 km Line-1 which'll connect Danapur Cantonment with Khemni Chak, after officials from the Delhi Metro Rail Corporation (DMRC) opened tenders today afternoon to reveal its list of bidders.
This package comprises of two disjointed elevated sections on either side of the line. The first – a roughly 4 km section connecting Danapur with Patliputra Ramp through 4 stations, and the second – another roughly 4 km section with 3 stations connecting Mithapur Ramp with Khemni Chak Station which'll allow users to switch over to the 14.05 km Line-2 (Patna Junction Railway Station – New ISBT).
DMRC invited tenders for this package's construction in September 2020 with an estimated cost of Rs 527.62 crore and expects the assigned contractor to complete work in 36 months.
Bidders:
NCC Ltd.
Sam India Builtwell Pvt. Ltd.
U.P. State Bridge Corporation Ltd.
YFC Projects Ltd.
Package PC-04's Scope: Part Design and Construction of Elevated Viaduct, elevated ramp at Mithapur & Patliputra and seven stations viz Danapur, Saguna More, RPS More, Patliputra, Mithapur, Ramkrishna Nagar & Jaganpura Station (Excluding Architectural Finishing & PEB works) in Corridor-1 of Phase-I of Patna MRTS.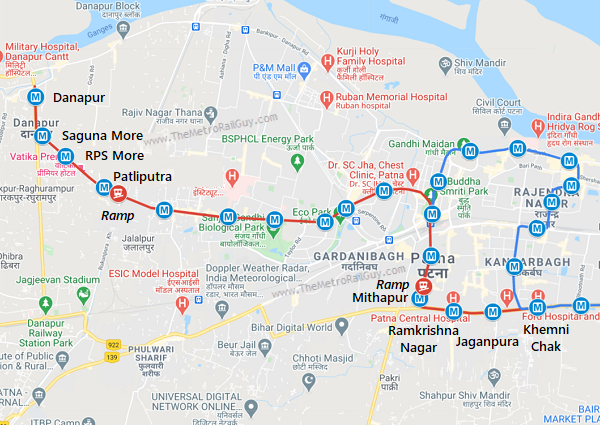 The bids have now been sent for technical evaluation which can take a couple months to complete. When that is done, the financial bids of the technically qualified bidders will be opened to reveal who's the lowest bidder and most likely contractor for building these two sections of the line.
A list of all Patna Metro tender notices and their status can be viewed here.
For Line-1 – tender notice(s) are now just pending for the roughly 8 km underground section between Patlipura Ramp and Mithapur Ramp. That section will comprise of 6 stations at Rukanpura, Raja Bazar, Patna Zoo (formerly JD Women's College), Vikas Bhawan (formerly Raj Bhavan), Vidyut Bhawan, and Patna Junction (interchange).
For more updates, check out the Patna section of The Metro Rail Guy!
– TMRG