Haryana state government's cabinet on Wednesday approved the detailed project report (DPR) for the new 103.02 km Delhi – Panipat Regional Rapid Transit System (RRTS) line which will consist of 17 stations of which 11 will be located in Haryana.
This line is one of the three early bird (Phase 1) lines to be developed by the National Capital Region Transport Corporation (NCRTC) where trains – just like those on the Delhi-Meerut and Delhi-Alwar lines – will run up to a maximum speed of 160 km/hr to cover the entire distance in 1 hour.
This line is estimated to cost Rs. 21,627 crore, and out of that Haryana Government will contribute Rs 4,699 as the state's share. Per the government's press release, construction of this line will be carried out in two stages – from Sarai Kale Khan to Murthal (58.28 km) and Murthal to Panipat (44.74 km).
The 17 stations on this line will be located at Nizamuddin / Sarai Kale Khan (under construction as part of the Delhi-Meerut RRTS line), Indraprastha, Kashmere Gate, Burari Crossing, Mukarba Chowk, Alipur, Kundli, KMP Expressway Interchange, Rajeev Gandhi Edication City (RGEU), Murthal, Barhi, Gannaur, Samalkha, Panipat South, Panipat North, Panipat Depot.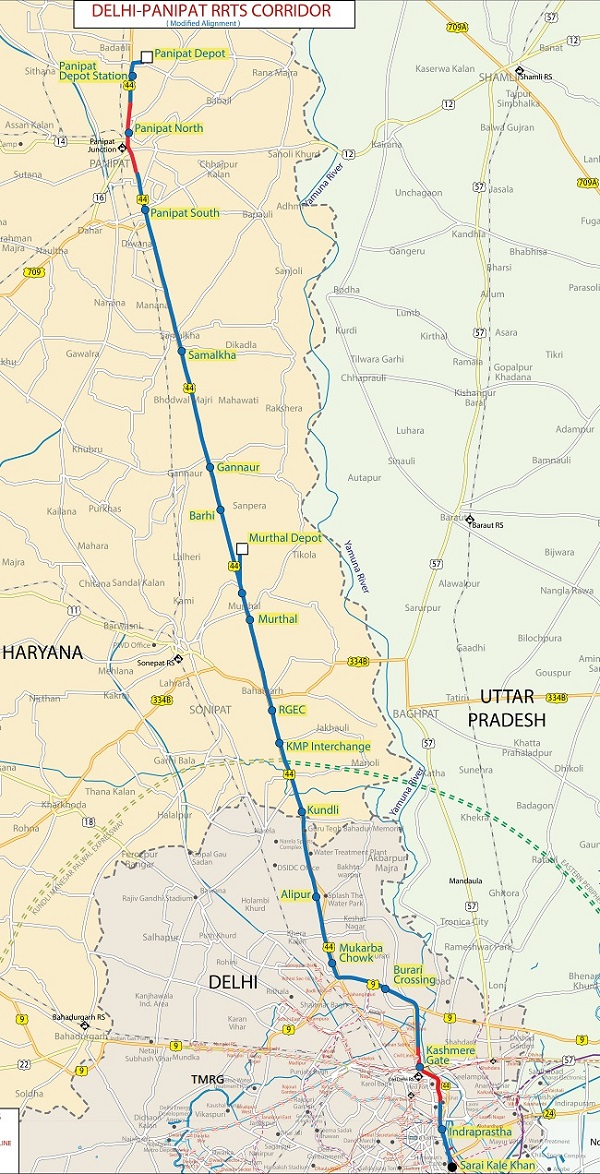 Route shown in red will be underground. Rest will be elevated. In the future, this RRTS line is planned to be extended by 25 kms to Karnal with 3 new stations at Gharunda, Madhuban and Karnal.
The line's DPR is currently awaiting the Delhi Government's approval. After that happens, it will be sent to the Central Government for its cabinet's approval.
With this exciting development, I expect NCRTC will soon start inviting tenders for geotechnical investigation, pile load tests, Detailed Design Consultancy (DDC) and General Consultants (GC) services. Ground work for civil construction is expected to start no sooner than mid-2022.
For more updates, check out the NCR RRTS section of The Metro Rail Guy!
– TMRG