Gujarat Metro Rail Corporation (GMRC) today invited bids from construction firms for building Surat Metro Line-1's train depot, operations control centre (OCC) and Metro Bhavan headquarters at Dream City.
These new facilities for Surat Metro's Phase 1 project will come up at the extreme southern-end of the 21.61 km Line-1 which will connect Dream City with Sarthana through 14 elevated and 6 underground stations.
Their exact location and design details such as the number of stabling, workshop, inspection lines wasn't mentioned in the basic tender notice and remains unknown at this time.
Tender Notification: GMRC/CONS/DC 01/Surat/PH-1/2021
Package: DC-01
Scope: Development and Construction of Dream City Depot including Metro Bhavan, OCC and associated E & M works under corridor C1, Sardhana to Dream city, in connection with Surat Metro Rail Project, Phase-1, Package DC-01
Estimate: Rs. 346 crore
Period of Completion: 20 months
Pre-Bid Meeting: 18-01-2021 at 11:30 hrs
Date & Time of Submission of Tender: 18-02-2021 up to 12:00 hrs
Date & Time of Opening of Tenders: 18-02-2021 at 3:30 hrs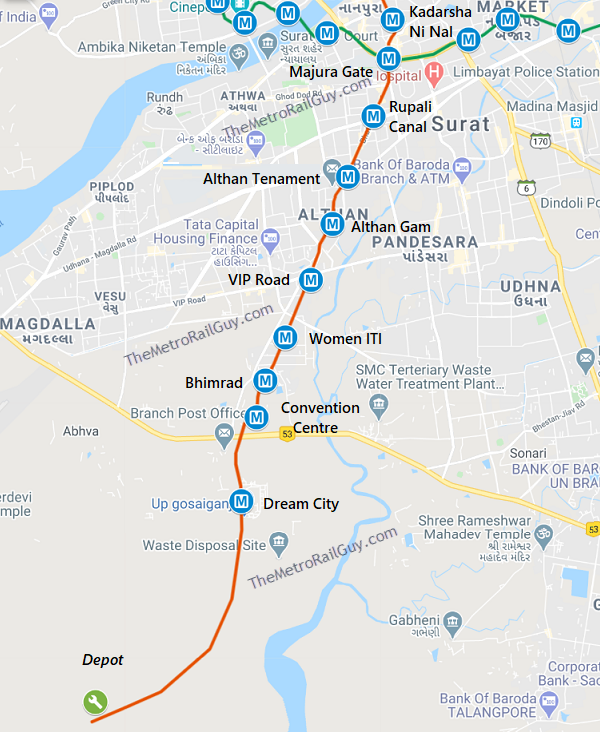 Package DC-01's Scope
Construction of Boundary Wall of Depot complex, Metro Bhavan & OCC.
Earth work and Land Area Grading works.
Construction of service buildings, offices for O&M organization, operation control room, canteen, sub-stations etc. These will be RCC framed structures – column and beam type – on open/raft/pile foundations.
Construction of workshop/shed structures, pre-engineering/ prefabricated, with roofing, ACP cladding, glazing etc.
Architectural Finishing works including granite/marble flooring, stone cladding, metal cladding and/or aluminium/glazing etc.
HVAC works in some buildings.
General electrification, E&M works, fire detection/suppression works, installation of heavy duty compressors, DG sets, EOT cranes, general illumination, light towers, BMS/LAN etc.
Water supply and drainage works
Internal roads and Depot approach road, formation and final surfacing
Cable trenches
Landscaping
Any other work associated with above scope that are necessary for commencing of Depot
With this development, for Line-1's civil work – now just one tender notice is pending for the roughly 4 km Kapodra Ramp – Sarthana section. That elevated section will consist of 4 stations at Shri Swaminarayan Mandir Kalakunj, Varaccha Chopati Garden, Nature Park, and Sarthana.
Back in December, GMRC opened financial bids for three civil packages:
Ground work is expected to begin in this quarter and full-fledged construction in Q2 2021.
For more updates on India's metro systems, check out my Home Page!
– TMRG