Last Thursday, India's Finance Ministry and France's Agence Française de Développement (AFD) signed a Memorandum of Understanding (MoU) to have the latter lend € 250 million (approx. Rs. 2205 crore) for developing Surat Metro's Phase 1 project.
The MoU was signed in the presence of Union Minister for Housing & Urban Affairs Hardeep Singh Puri and France's Ecological Transition Minister Minister Barbara Pomili.
The loan period or interest rate haven't been disclosed at this time, and I'll update this section when known. AFD's involvement in Surat's metro rail project was first revealed in May 2020 when the Gujarat Metro Rail Corporation (GMRC) published AFD's name in an EOI notice for appointing the project's General Engineering Consultant (GEC).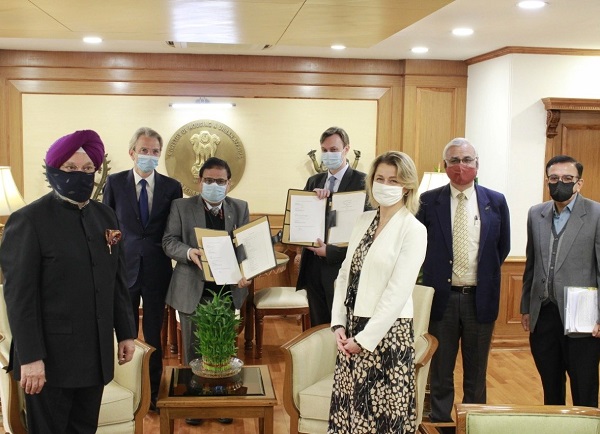 Surat Metro's 40.35 km Phase 1 project with two lines and 38 stations was approved by the Gujarat state government in January 2017 and by the Central Government's cabinet in March 2019 with an estimated cost of Rs. 12,020.32 crore.
| | | |
| --- | --- | --- |
| Corridors | Length (KM) | Stations |
| Line-1: Sarthana to Dream City | 21.61 km | 20 |
| Line-2: Bhesan to Saroli | 18.74 | 18 |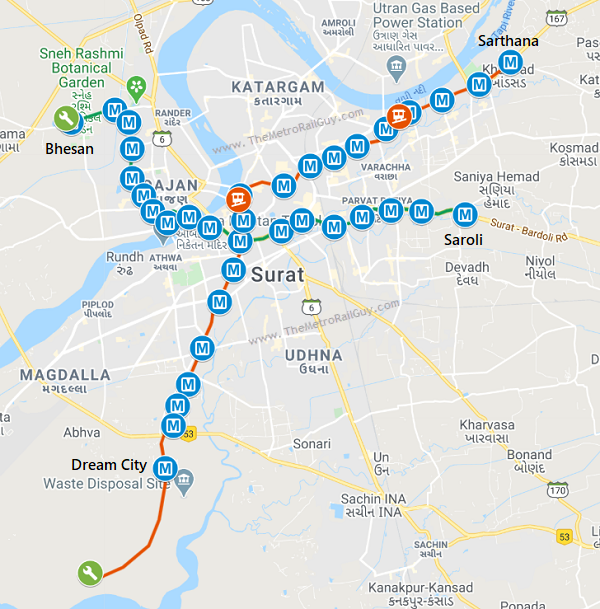 So far contracts for two of three sections of Surat Metro's Line-1, where financial bids have been opened, have been awarded for construction. Among them, geotechnical investigation is underway for the 3.56 km underground Package CS3 (Surat Railway Station – Chowk Bazar Ramp).
Detailed information on Surat Metro Phase 1's lines, stations and tenders/contracts can be viewed here.
Among all the approved & under construction new projects, lenders are yet to be officially assigned or revealed for Patna Metro and Agra Metro. If anyone is aware of the chief lender(s), then please drop a message below.
For more updates, check out my Home Page!
– TMRG
Subscribe to Free Email Notifications