Alstom Transport India is the only bidder for upgrading and introducing virtual signals (Package SOA-001) on the Delhi Metro's 49.31 km Yellow Line (Line-2) which connects Samaypur Badli in Delhi to HUDA City Centre in Gurugram through 37 stations.
This line, built between Phases 1-3, is equipped with Alstoms' Urbalis-200 train-control & signaling solution so it was fairly obvious that Alstom would be one of the bidders, if not the only bidder for this contract.
This upgrade of the yellow and blue lines' signaling has been in the works since at least 2019 by the Delhi Metro Rail Corporation (DMRC) with an aim to identify glitches and allow affected trains to still run at regular speeds of 33-37 kmph until the next interlocking section. The end goal is to provide smoother operations and prevent overcrowding at stations.
DMRC had invited bids for this in December with an estimated cost of Rs. 89.31 crore and completion period of 18 months. Technical bids were opened on Tuesday to reveal Alstom as the only bidder.
Contract: SOA-001
Brief Scope: Design, Manufacture, Supply, Installation, Testing and Commissioning of virtual signals and ATS system up gradation of Line-2.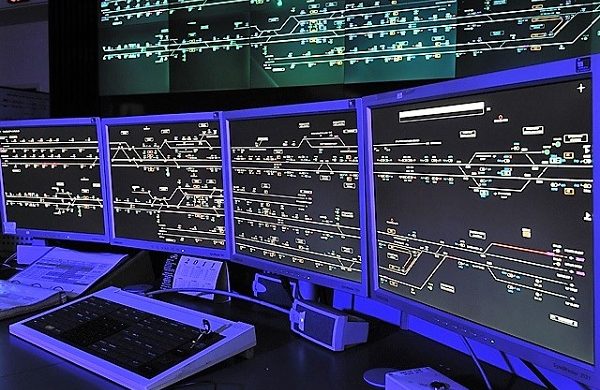 Alstom's bid will now be sent for technical bid evaluation which can take a couple months to get complete, and they should go on to be awarded with its contract this summer. The installation, testing and commissioning of virtual signals is planned to be accomplished during non-revenue hours.
Here's a grainy graphic from the TOI published exactly a year ago on February 20, 2020 related to the Blue Line where virtual signals will also be installed. This line is equipped with Siemens' signaling solution and is notorious for snags.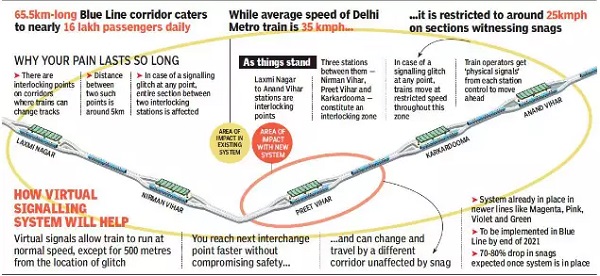 Excerpt from their article explaining virtual signals in further detail:
The Delhi Metro Blue Line corridor is divided between the 'interlocking sections'. This is the portion between the metro stations where the trains can change the tracks. For example, both Laxmi Nagar and Anand Vihar stations are interlocking stations and the section on the route between them, comprising three stations, namely, Nirman Vihar, Preet Vihar and Karkardooma becomes one interlocking section. A signalling hitch at any of these interlocking sections disrupts the entire stretch. The movement is affected as the train operators need to acquire target speeds from each station manually. To ensure the safety of the passengers, the speed is restricted to 20-25 km per hour causing clumping of trains, leading to a cascading effect on the entire metro corridor.

The virtual signalling system is an intermediate entry and exit location displayed on the signalling monitor at the control centre. The system can be used to divide the routes between any two fixed signals. However, since it is not a physical signal, it only controls trains having automatic train protection. The concept of virtual signalling aims to keep the metro trains operating at the normal speed of 35-37 kmph. The virtual signalling system will also ensure that the trains reach the nearest interlocking section at a faster pace.
Scope and Purpose from Tender Document:
This Technical specification specifies the particular requirement of the provision of virtual signal at 26 locations of Line-2 and ATS system hardware & software application upgradation at all stations including 3 depots with main OCC & backup OCC at Metro Bhawan & Shastri Park with updation of training simulator system at Delhi Metro Rail Academy (DMRA).
The work to be executed under the contract include design, manufacture, verification, delivery, installation, testing, commissioning, integration and technical support for a complete integrated train control & signalling system, including all control centres, trackside, and train borne equipment, necessary to deliver the requirements of this specification.
It is necessary to deliver the requirements of this Specification as also integrating the same with existing Signalling, Telecom & other systems available in the present Line-2 section required for seamless working/operation of the existing system. The work shall provide support of spares, hardware and software up to minimum 10 years from the date of commissioning.
I'm assuming the Blue Line's virtual signaling package will be SOA-002. A tender notice for that is currently pending. Update: Scratch that. Siemens was awarded a Rs. 86.21 crore contract in June 2020 for package OSW-674. Bids for it were invited in December 2019 with a 16 month completion period.
For more updates, check out my Home Page!
– TMRG