Four construction firms / consortia have submitted bids to build 4 prestressed concrete (PSC) and 7 steel truss bridges for the 508.17 km Mumbai – Ahmedabad High Speed Rail (MAHSR Bullet Train) project after National High Speed Rail Corporation Ltd. (NHSRCL) opened technical bids today.
All 11 bridges of this package P1B correspond to Larsen & Toubro's under construction 237.1 km Package C4 which runs from Zaroli Village on MH/GJ border to south of Vadodara. This is the longest section of the line with 4 stations at Vapi, Bilimora, Surat and Bharuch in Gujarat.
Note – the fabrication and transportation of the steel truss girders will be done through Package P4 X & Y which was awarded to Larsen & Toubro – IHI Infrastructure Systems Consortium in January.
NHSRCL invited bids for P1B in November 2020 with a 1096 day (3 year) deadline. Their estimate is unknown.
Bidders:
GRIL – GPT JV
KEC – SAM India JV
MG Contractors Pvt. Ltd.
Ranjit Buildcon Ltd.
Contract: MAHSR-P-1B
Scope: Construction of Bridges for Double Line High Speed Railway for 04 No. PSC Bridges (GAD 9, 10, 11 & 1441) and 07 No. Steel Truss Bridges (GAD 68, 1134, 12, 61, 14, 15 & 62) [excluding fabrication and transportation of steel truss girders] between Zaroli Village at Maharashtra-Gujarat Border (MAHSR Km. 156.600) and Vadodara (MAHSR Km. 393.700), in the State of Gujarat and the Union Territory of Dadra and Nagar Haveli for the Project for Construction of Mumbai-Ahmedabad High Speed Rail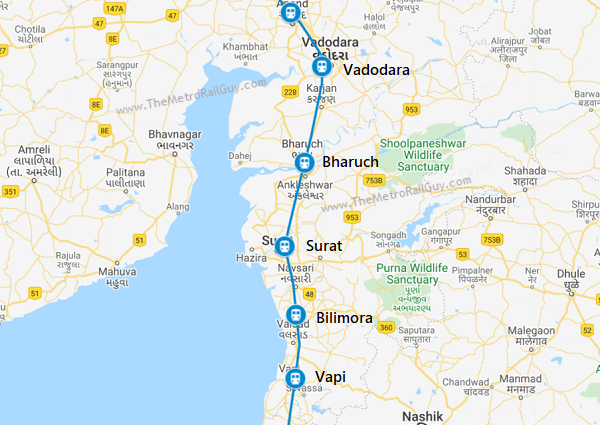 The bids have now been sent for technical evaluation which – going by C4 and C6's experience – is expected to take a month to complete. When that is done, the financial bids of the technically qualified bidders will be opened to reveal who's the lowest bidder and most likely contractor for this package.
A list of all bullet train civil packages and their status can be viewed here.
NHSRCL plans to open bids for Package P1C tomorrow which corresponds to the 87.569 km Package C6 (north of Vadodara to Ahmedabad). This was also awarded to Larsen & Toubro and is the 3rd longest section of the line with one station and a minor depot at Anand-Nadiad. Stay tuned…
For more updates, check out the High Speed Rail section!
– TMRG