Uttar Pradesh Metro Rail Corporation (UPMRC) on Monday awarded HFCL Ltd. with the telecommunications contract for the 32.385 km Kanpur Metro and 29.40 km Agra Metro's Phase 1 projects.
UPMRCL had invited bids for this systems-related work in September 2020 with a Rs. 215 crore estimate and 36 month deadline. Technical bids were opened in December and their evaluation was completed in February 2021 in which four bidders qualified – HFCL, KEC, Larsen & Toubro and Siemens.
Financial Bid values are unavailable at this time. If someone is aware, leave a comment and I can add them in.
Contract: KNAPGS-1
Brief Scope: Design, manufacture, supply, installation, testing and commissioning of Fiber Optic Transmission System, Telephone System, Train Radio TETRA System, Public Address System, Passenger Information Display System, Master Clock System, CCTV System, Access Control System and Uninterrupted Power Supply System (for Signalling, Telecommunication, AFC and E&M equipment), supply of spares, DLP Maintenance and the training of operation and maintenance personnel for these systems for Kanpur Metro (Corridor-I and Corridor-II) and Agra Metro (Corridor-I) Projects of Uttar Pradesh Metro Rail Corporation Ltd.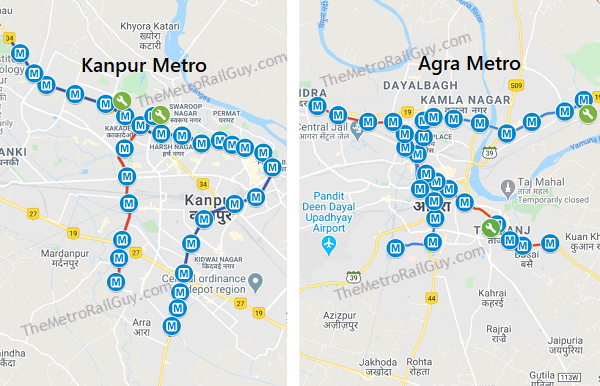 With this development – among the large system-related contracts – now only the winner for both projects' head-hardened rails (Package KNPAGT-1) contract remains unknown. Financial bids were opened on February 12.
A list of all packages (civil and systems) and their status can be viewed here for Kanpur Metro and here for Agra Metro.
For more updates, check out my Home Page!
– TMRG