Ramalingam Construction Company on Tuesday emerged as the lowest bidder for constructing the 261 km Bangalore – Chennai Expressway's Phase 3 Package 4 after National Highways Authority of India (NHAI) opened financial bids.
This section between Kanchipuram and Sriperumbudur (Km 230.000 to Km 261.705) is 31.7 km long and lies on the eastern-end of the expressway within Tamil Nadu. NHAI invited bids for it in December 2020 with a completion period / deadline of 730 days (2 years). Technical bids were opened on February 23 to reveal 6 bidders.
NHAI's Estimate: Rs. 1143.86 crore
Financial Bid Values:
| | |
| --- | --- |
| Firm | Bid |
| Ramalingam Construction Company | Rs. 1461.16 crore |
| Adani Road Transport | Rs. 1469.32 crore |
| DP Jain & Co. | Rs. 1509.50 crore |
| Montecarlo | Rs. 1554.50 crore |
| Oriental Structural Engineers | Rs. 1702.76 crore |
| IRB Infrastructure Developers | Rs. 1708.27 crore |
Contract: Phase 3 Package 4
Brief Scope: Construction of Four lane Bangalore Chennai Expressway from Ch. 230.000 to Ch. 261.705 (Kanchepuram to Sriperumbudur Section in the State of Tamil Nadu) under Bharatmala on Hybrid Annuity Mode (Phase III-Package IV)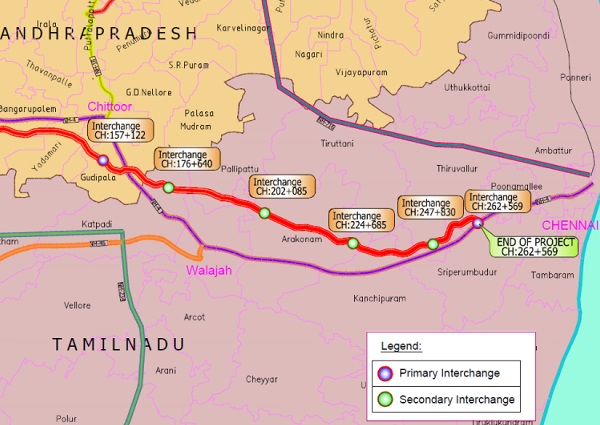 Ramalingam's bid was 27.74% higher than NHAI's estimate, so it remains to be seen if NHAI will award as-is, negotiate to bring down cost or go in for a retender. Earlier this month, DBL was awarded Phase 1's Package 1 & 2 despite their bids being 15% higher, but the figure for this is on a different level.
The Bangalore – Chennai Expressway project has been divided up into 3 phases with a total of 10 sections / packages between their terminals at Hoskote and and Sriperumbudur. With this development, financial bids for 9 packages have been opened and contracts for at least 2 of those have been awarded.
A list of all packages and their status can be viewed here.
For more updates, check out my Home Page!
– TMRG