September 15, 2021 Update: Montecarlo (MCL) has received NHAI's LOA.
March 20, 2021 Original Post: That's a wrap. Montecarlo Ltd. (MCL) on Friday emerged as the lowest bidder for constructing the 261 km Bangalore – Chennai Expressway's Phase 2 Package 1 – the final of 10 sections – after National Highways Authority of India (NHAI) opened financial bids.
This section between Bethamangala to Baireddypalle (Km 71 to Km 96) is 25 km long and split between Karnataka and Andhra Pradesh. NHAI invited bids for it in December 2020 with a completion period / deadline of 730 days (2 years). Technical bids were opened on February 4 to reveal 14 bidders.
NHAI's Estimate: Rs. 951.63 crore
Financial Bid Values of Lowest 5 Technically-Qualified Bidders:
| | |
| --- | --- |
| Firm | Bid |
| Montecarlo | Rs. 1109.58 crore |
| Megha Engineering | Rs. 1123.93 crore |
| KCC Buildcon | Rs. 1135.12 crore |
| PNC Infratech | Rs. 1138.58 crore |
| KNR Constructions | Rs. 1147.94 crore |
Contract: Phase 2 Package 1
Brief Scope: Construction of Four lane Bangalore Chennai Expressway from Ch.71.000-Ch. 96.000 (Bethamangala to Baireddypalle Section) in the States of Karnataka and Andhra Pradesh under Bharatmala Pariyojna on Hybrid Annuity Mode (Phase II-Package I)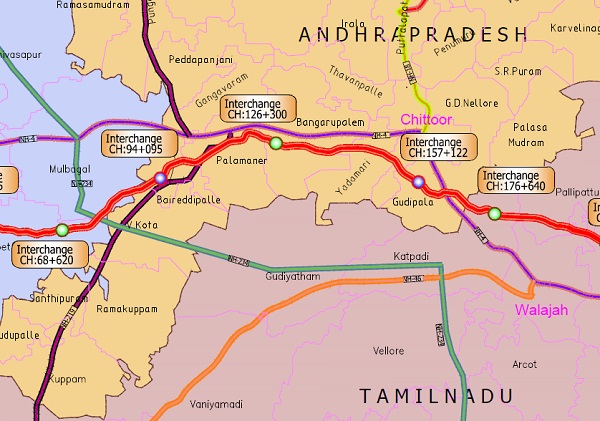 Montecarlo's bid was 16.59% higher than NHAI's estimate, but I don't see that being an issue as earlier this month DBL was awarded Phase 1's Package 1 & 2 despite their bids being roughly 15% higher.
Prior to this, MCL was the lowest bidder for Phase 3's Package 1 (Gudipala to Walajahpe in Tamil Nadu) as well making this their second win.
With this development, financial bids for all 10 packages between Hoskote and Sriperumbudur have been opened and contracts for at least 2 of those have been awarded. All of this has transpired in just the past 45 days, something that would be unimaginable in the metro / rail industry.
Unless NHAI re-invites bids for one of the sections, my job for this expressway is now done. Over the next 6 months, tendering for Delhi-Mumbai, Delhi – Dehradun and Delhi – Amritsar expressways should also near completion, so stick along for the ride.
This weekend, I created new information pages for Dwarka Expressway, Delhi's UER 2 Expressway, and Ahmedabad – Dholera Expressway. Many more are in my backlog including Trans Haryana Expressway and Amritsar – Jamnagar Expressway. Are there any others I should add? Drop a comment below.
Update: New page on Trans Haryana Expressway is now ready – view it here. Check out the 'Misc' section in the menu bar for more.
For more updates, check out my Home Page!
– TMRG