Three design engineering firms have submitted tenders for the first Detailed Design Consultant contract of the 227.60 km Ahmedabad – Rajkot Semi High-Speed Rail Project.
This is the first of multiple DDC contracts for this new semi high-speed rail line in Gujarat where trains will travel at a top speed of 160 kmph to link both cities through 6 stations at Sabarmati, Sanand, Bavla, Limbdi, Chotila and Rajkot. At Ahmedabad's Sabarmati Station, riders will be able to easily interchange with the 508 km Mumbai – Ahmedabad High Speed Rail and Ahmedabad Metro, Indian Railways station, and Janmarg BRT bus station.
The scope of this contract includes DDC works for Sabarmati Station, approximately 40 kms of elevated viaduct (Sabarmati to Bavla) and a small stabling yard near Sabarmati to house a few train-sets (rolling stock) for morning services.
Gujarat Rail Infrastructure Development Corporation (G-RIDE) invited tenders for this DDC contract on February 2 with an estimate of Rs. 7.04 crore and opened technical bids on March 26 to reveal 3 firms had shown interest.
Bidders:
B&S Engineering Consultants
Spectrum Consultants India
Tata Consulting Engineers (TCE)
Contract: G-RIDE/ADI-RJT/SHSR/2
Scope: Engagement of Detailed Design Consultant (DDC) for Civil, Architectural and E&M Works for the design of One elevated station (i.e., Sabarmati including Multimodal Integration Scheme), approx. 40 Km Elevated Viaduct (from Sabarmati 0 Km to Bavla 40 Km) and a stabling yard near Sabarmati for Ahmedabad-Rajkot Semi High -Speed Rail Project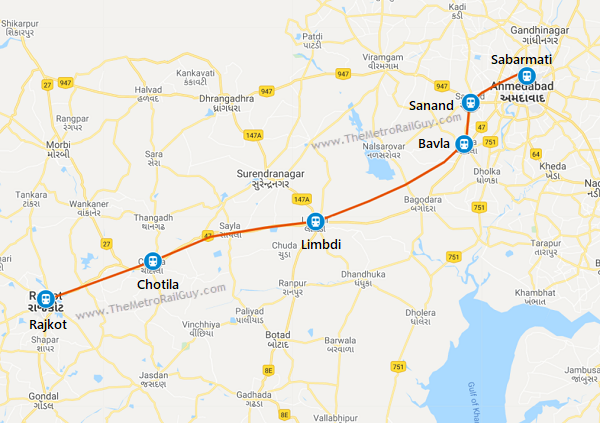 The bids have now been sent for technical evaluation which can take a couple months to complete. When that is done, the financial bids of the technically qualified bidders will be opened to reveal who's the lowest bidder and most likely DDC contractor for this package.
I'm surprised none of the regular design engineering firms like AECOM, Systra, SMEC or Egis didn't participate, but they all probably had a good enough reason to sit out.
For more updates, check out my Home Page!
– TMRG