April 20 Update: Tendering process has been cancelled. UKMRC has invited bids for a second round with a submission date of June 4.
April 6 Original Post:
PNC Infratech on Monday emerged as the only firm to submit an application for developing Haridwar's personal rapid transit (PRT) system on public-private partnership mode under Design, Built, Finance, Operate and Transfer (DBFOT) basis.
Named Haridwar Darshan, the Uttarakhand Metro Rail Corporation (UKMRC) has proposed to build a 19.65 km network of 4 elevated corridors on the central verge of the city's roads:
Sitapur – Bharat Mata Temple: 14.0 km
City Hospital – Daksha Temple: 3.0 km
Ganeshpuram – DAV School: 2.0 km
Valmiki Chowk – Laltaro Bridge: 0.65 km
Uttarakhand Metro Rail Corporation (UKMRC) had invited applications from private entities to bid as a concessionaire in November 2020 through an Expression of Interest cum Request for Qualification ("EOI cum RFQ") notice.
Per the requirements, the technology proposed by applicants must be already in passenger operation for a minimum of 1 year and have a minimum stretch of 1.5 km.
Tender No: UM-140/EOI cum RFQ PRT Haridwar/2020-21/01
Scope: Development of Personalised Rapid Transit (PRT) System in Haridwar city of Uttarakhand called "Haridwar Darshan" under Design Built Finance Operate and Transfer (DBFOT basis) – (PPP MODEL)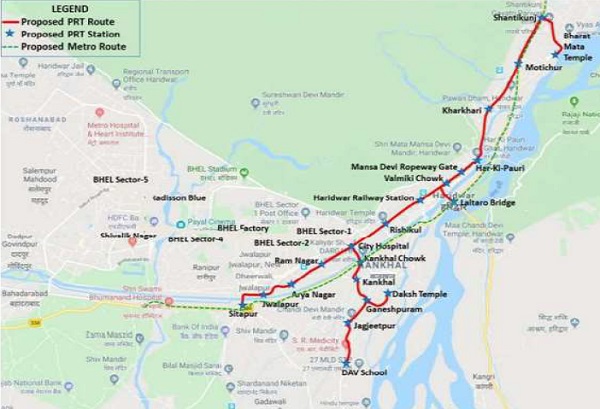 With just one bid received, I'm not sure what UKMRC's game plan is going to be. If they're not satisfied with the response, then the tender process will be scrapped and head towards a re-tender. If they're satisfied, then PNC Infratech's application will be evaluated on the technical & financial criteria. If they qualify, then they will be invited to submit a bid at the RFP stage.
I've never been convinced by the utility of PRT systems in the urban landscape, particular in India, due to severe capacity constraints even though they've been tested with 1 second headways. They are too small for big cities, and too costly for smaller cities.
There are only a handful of PRT systems around the world (eg: Heathrow Airport in London and Suncheon in South Korea) and most are 1-4 km long. Many operators have in fact suspended plans for further expansion.
Here's a 6+ year old video from London to give an idea of what PRT is all about:
Personally, I'm rooting that Haridwar never sees this system. If I had it my way, I'd first strengthen and improve the local bus system, sidewalks, curb-side and street design for better throughput. This is extremely basic stuff that all cities and towns still need to work on. If a grade-separated transit solution is required then a bus system like Nashik Metro Neo would be a good start.
For more updates, check out my Home Page!
– TMRG