Eighteen construction firms have submitted bids to construct the terminal building of the new Rajkot International Airport after Airports Authority of India (AAI) opened technical bids on Wednesday afternoon.
This new greenfield airport in Gujarat's Hirasar village, 25 km north-east of Rajkot, will stretch across an area of 1025 hectares. Basic construction work for its runways and site development is underway by Dilip Buildcon – see more information at the bottom of the post.
AAI invited bids for its terminal's construction in February with an estimated cost of Rs. 310.05 crore and completion deadline of 540 days (1.5 years).
Bidders:
Ahluwalia Contracts
Capacite Infraprojects
Cube Construction
Dilip Buildcon – PSP JV
Deepak Builders and Engineers India
Dee Vee Projects
DRA Infracon
Enginering Projects (India)
ISGEC Heavy Engineering
Katira Construction
KEC International
Kunal Structure (India)
National Projects Construction Corp
SCC – VRS JV
Swadeshi Civil Infra
URC Construction
Vascon Engineers
Yashnand Engineers & Contractors
Tender: AAI/CHQ/ENGG/WR/HIRASAR/TB
Brief Scope: Construction of Passenger Terminal Building and Allied works for New Greenfield Airport at Hirasar Rajkot, Gujarat, India
The bids have now been sent for technical evaluation which can take a couple months to complete. When that is done, the financial bids of the technically qualified bidders will be opened to reveal who's the lowest bidder and most likely contractor.
Here are some design renderings by Delhi-based Creative Group Architects – sourced from the tender documents. Synergy Property Development Services is the Project Management Consultant (PMC).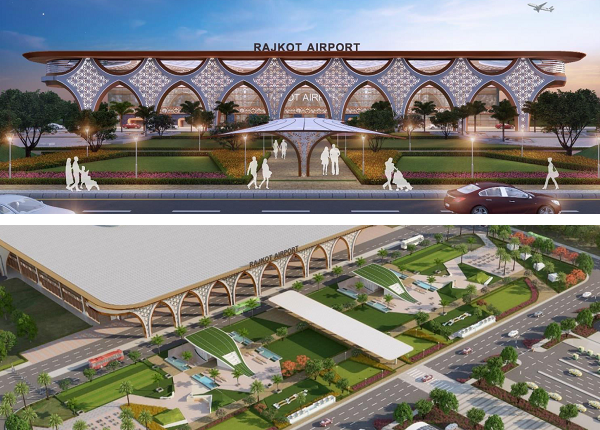 The terminal's design depicts various art forms from local Lippan art to dandiya dance through its external façade and interior design. This includes stone jalis, semi circular arches, pointed arches, horizontal lovers for reducing heat in interiors and vertical jalis to reduce heat intake.
Sections of it look too blingy or gaudy to me, and I'm really curious to see how this shapes out.
Construction work for Rajkot Airport's runway, turning pads, taxiways, airfield ground lighting system etc. is currently underway by Dilip Buildcon through a Rs. 570 crore contract awarded in February 2020. Their scope of work also include grading earthwork, construction of perimeter and other roads, drainage system, related retaining structures, a fire station and a fire pit.
All of this is viewable on Google Maps – view satellite imagery.
For more updates, check out my Home Page!
– TMRG