June 30, 2021 Update: ITD Cementation has received LOA contract from GMRC
June 22, 2021 Original Post: ITD Cementation India on June 10 emerged as the lowest bidder for constructing Surat Metro Line-1's Dream City train depot, operations control centre (OCC) and Metro Bhavan headquarters, after Gujarat Metro Rail Corporation (GMRC) opened financial bids.
These new facilities for Surat Metro's Phase 1 project will come up at the extreme southern-end of the 21.61 km Line-1 which will connect Dream City with Sarthana through 14 elevated and 6 underground stations.
Their exact location and design details such as the number of stabling, workshop, inspection lines wasn't mentioned in the basic tender notice for Package DC-01 and still remains unknown at this time.
GMRC invited bids for this package in January with an estimated cost of Rs. 346 crore and completion deadline of 20 months. Technical bids were opened in March to reveal 9 bidders.
Financial Bid Values:
| | |
| --- | --- |
| Firm | Bid (Rs. Crore) |
| ITD Cementation | 334.13 |
| KEC International | 346.28 |
| URCC | 352.10 |
| Ranjit Buildcon | 356.51 |
| Sam India Builtwell | 359.34 |
| ISGEC Heavy Engineering | 365.71 |
| PSP Projects | 386.02 |
| Engineering Projects India | 397.34 |
| Kunal Structure | 436.38 |
Tender Notification: GMRC/CONS/DC 01/Surat/PH-1/2021
Package: DC-01
Scope: Development and Construction of Dream City Depot including Metro Bhavan, OCC and associated E & M works under corridor C1, Sardhana to Dream city, in connection with Surat Metro Rail Project, Phase-1, Package DC-01 (view detailed scope)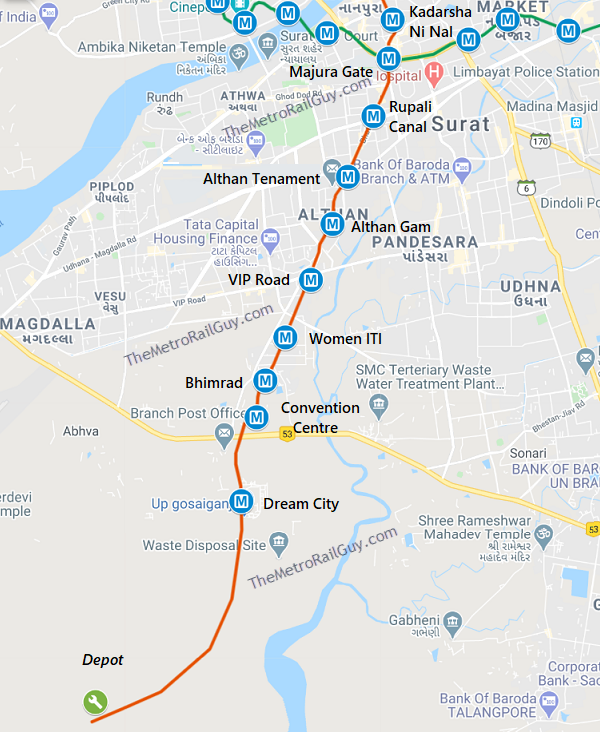 ITD Cem's bid of 334.13 crore was well below GMRC's budgeted estimate of Rs. 346 crore, so they should be awarded its contract in the coming weeks. If I'm not mistaken, this would be their first metro depot works-related contract.
Basic pre-construction ground work on the depot is expected to begin in the middle of Q3 and full-fledged construction in Q4.
As shared in the past, for Line-1's civil work – one tender notice is still pending for the roughly 4 km Kapodra Ramp – Sarthana section. That elevated section will consist of 4 stations at Shri Swaminarayan Mandir Kalakunj, Varaccha Chopati Garden, Nature Park, and Sarthana.
In depot construction-related news, BMRCL on June 19 awarded BSR Infratech with Bangalore Metro Anjanapura Depot's Rs. 58.87 crore contract. They were the lowest bidder among 8 firms in April.
For more updates, check out my Home Page!
– TMRG