Universal Contractors and Engineers – a relatively unknown firm on Friday emerged as the lowest bidder to build the city-side and pending air-side infrastructure of Itanagar Airport, after the Airports Authority of India (AAI) opened financial bids.
As shared earlier – the capital of Arunachal Pradesh currently doesn't have an airport of its own and the closest to it is Lilabari Airport (also known as North Lakhimpur Airport) in Assam, located about 70 km away. The new airport is being developed at a 4,100 square metre site about 15 km south in Hollongi, right at the base of the Himalayas – view satellite imagery.
AAI re-invited bids for its construction for the 3rd time in February with an estimated cost of Rs. 160.85 crore and completion deadline of 15 months. Technical bids were opened in April to reveal 12 bidders.
Financial Bid Values:
| | |
| --- | --- |
| Firm | Bid (Rs. Crore) |
| Universal Contractors and Engineers | 156.28 |
| KMV Projects | 159.78 |
| KCL – SCC JV | 165.98 |
| DRA Infracon | 168.71 |
| NPCC | 169.70 |
| Vascon Engineers | 172.00 |
| KEC International | 174.15 |
| ISGEC Heavy Engineering | 174.48 |
| Gannon Dunkerly and Co. | 175.00 |
| Engineering Projects (India) | 196.64 |
| Renaatus Projects | 202.17 |
Contract: AAI/CHQ/ED(NER)Holongi/2021
Scope: Construction of New Greenfield Airport at Holongi, Itanagar, Arunachal Pradesh. Phase-II: Construction of Complete city side and balance air side Infrastructure. (3rd Call)" Sub Head: "Detailed Designing, Engineering, Procurement and Construction of Terminal Building, Fire Station, ATC Tower cum Technical Block, Residential Complex, E&M workshop, Medical Centre, DVOR Building, Pump house Building, Sub Station, Car Park, etc i/c all Civil works, Electrical, Mechanical, Plumbing, Fire Fighting, HVAC, Airport System, IT , Furniture and Furnishing, landscape, Roads/ Pavements, drainage, STP and Ancillary works."
Universal's bid of Rs. 156.28 crore was well below AAI's budgeted estimate of Rs. 160.85 crore, so they should receive a contract in the coming months, unless some extraneous issues arise, with construction work restarting on the air-side infrastructure in Q4 2021.
Per AAI's tweet back in March:
This New Greenfield Airport will be equipped to handle A320 type aircraft, having a capacity of 200 flyers during peak hours and will consist of 5 check-in counters and 2 parking bays. The project is to be completed at an estimated cost of ₹645.63 Cr. The new airport terminal, spread across 4100 sqm., will be an energy-efficient building with rainwater harvesting system. It will have a glass façade offering the panoramic scenic view of the mighty Himalayas.
Design renderings via AAI: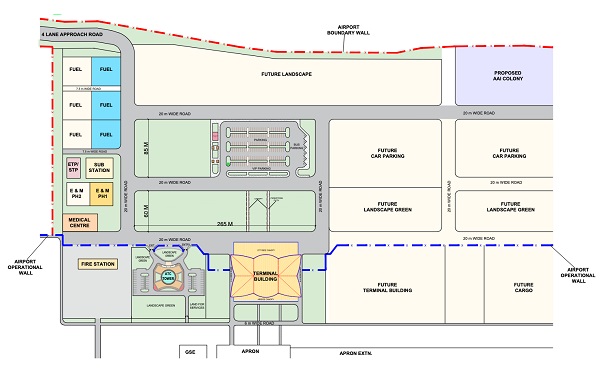 More design renderings can be viewed here.
For more updates, check out my Home Page!
– TMRG