13 design and engineering firms have submitted bids to prepare a Detailed Project Report for the roughly 650 km Raxaul – Haldia Expressway, after National Highways Authority of India (NHAI) opened technical bids last Thursday.
Haldia port currently handles most of Nepal's trade, and this roughly 650 km expressway connecting Bihar with West Bengal is proposed with a primary goal to improve efficiency of freight movement and boost exports from the surrounding region.
NHAI invited tenders for this consultancy work in April and expects the selected consultant to prepare a DPR within 300 days of appointment.
Bidders:
Aarvee Associates Architects Engineers and Consultants
CE Testing Company
Egis India Consulting
FP Infra Project Management Consultancy
K and J Projects
LEA Associates
LN Malviya Infra Projects
RITES
SA Infrastructure Consultants
SMEC International
STUP Consultants
Theme Engineering
TPF Engineering
Brief Scope: Proposals are hereby invited from eligible Consultants for preparation of Detailed Project Report of Consultancy Services for preparation of DPR for Greenfield Expressway from Raxaul to Haldia Port.
This expressway's alignment will see it diagonally cut through Bihar, Jharkhand and West Bengal. Along the way, it will pass by Muzaffarpur in Bihar and Asansol – Durgapur in West Bengal. An accurate image of its alignment, design and civil features will appear when the DPR's first draft is developed by mid-2022.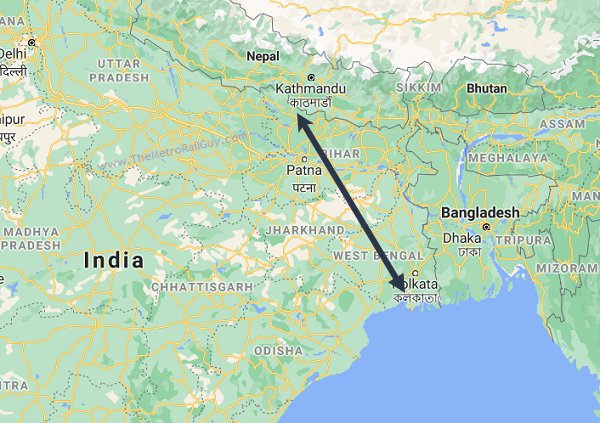 The bids have now been sent for technical evaluation which can take a couple months to complete. When that is done, the financial bids of the technically qualified bidders will be opened to reveal who's the lowest bidder and most likely contractor.
As shared earlier – if and when constructed, a portion of this expressway will function as the eastern section for linking Delhi – Kolkata via a series of access-controlled expressways, with the possibility of a spur getting developed towards Howrah and Kolkata city.
West Bengal has two other expressway projects in the works for over a decade:
270 km 'North-South Corridor' expressway linking Morgram in Murshidabad district with Mechogram in Purba Medinipur district. This expressway will skirt around Kolkata and the Asian Development Bank (ADB) has in the past shown interest to finance a portion of it.
4 lane expressway linking Haldia to Kolkata Airport (via Roychak & Kukrahati). Haldia Development Authority states that land acquisition for it "is nearing completion".
For more updates, check out my Home Page!
– TMRG