Three construction firms have submitted bids for a 9.605 km extension of Noida Metro's Aqua Line from Noida Sector-51 to Greater Noida Sector-2 after Noida Metro Rail Corporation (NMRC) opened technical bids today.
This is the fourth round of bidding for this section of the operational Aqua Line's 14.95 km eastern extension (Sector 51 to Knowledge Park V) which was approved for construction by the Uttar Pradesh government in December 2019.
NMRC re-invited bids in May-end with a Rs. 563.04 crore estimate and a 24 month deadline.
Bidders
Ashoka Buildcon
GR Infraprojects
Sam India Builtwell
Package: NGNC-01
Brief Scope: Part Design and Construction of Elevated Viaduct and 5 elevated stations viz NOIDA SEC -122, NOIDA SEC-123 GR. NOIDA SEC-4 ECOTECH-12 GR NOIDA SEC-2 (excluding Architectural finishing Works and PEB works of stations) from Chainage 0.00 m to Chainage 9605 m of Noida -Greater Noida Metro Rail Project.
This package consists of 5 elevated stations at Noida Sector 122, Noida Sector 123, Greater Noida Sector 4, Ecotech 12 (Tech Zone) and Greater Noida Sector 2.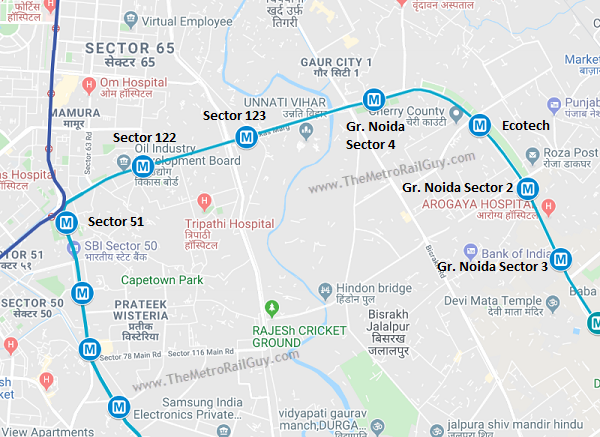 NMRC wasn't satisfied with just 2 bidders (GR and Sam) in the past 3 rounds – see recap. With the addition of Ashoka, I'm curious to see if they're now finally satisfied.
If the tender isn't cancelled by August 1, then I'd imagine technical bid evaluation of all 3 bids would have started. Stay tuned…
For more updates, check out the Noida section or my Home Page!
– TMRG