18 construction firms have submitted bids to construct Package 26 of the 1350 km Delhi – Mumbai Expressway (DME) project, after the National Highways Authority of India (NHAI) opened technical bids today.
This 8 lane greenfield access-controlled section in eastern Gujarat's Dahod District is the final package of the 844 km Sohna – Vadodara section's 31 packages to be tendered out. Its 32.835 km alignment connects Chhayan village on the Madhya Pradesh-Gujarat border with Hathiyavan village.
NHAI had invited tenders for its construction back in June 2020 with a 2 year deadline.
Bidders:
Afcons Infrastructure
APCO Infratech
Arize Infraspace
Atlas Constructions
CDS Infra Projects
Construtora San Jose S.A
E5 Infrastructure
Engineering Projects (India)
GHV (India)
GR Infraprojects
HG Infra Engineering
KCC Buildcon
Krishna Constructions
MS Khurana Engineering
Patel Infrastructure
PNC Infratech
Ravi Infrabuild Projects
Varindera Constructions
Package: 26
Brief Scope: Construction of 8Lane AC expressway starting from MP-Gujarat Border near Chhayan village and ending after Bridge Over Hadaf River near Hathiyavan village (Ch.696.920 to 729.755) section of Delhi-Vadodara GA(NH-148N) on EPC Mode under BMP in Gujarat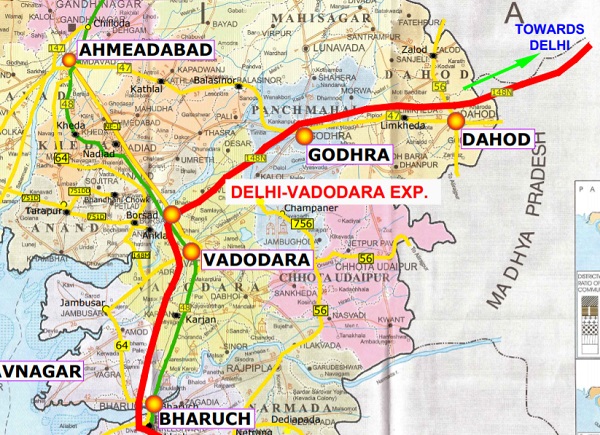 The bids have now been sent for technical bid evaluation which can take a couple months to complete. When that is done, the financial bids of the technically qualified bidders will be opened to reveal who's the lowest bidder and most likely contractor.
The entire Delhi – Mumbai expressway has been divided into 4 sections with a total of 52 tenders / packages – see a list and their status here.
While sections of it may open in 2022, ongoing long tendering delays for this package and others on the 354 km Vadodara – Virar section and 92 km JNPT Spur makes me believe the entire project will be ready no sooner than 2024.
For more updates, check out the Expressways section or my Home Page!
– TMRG
Subscribe to Free Email Notifications