25 construction firms have submitted bids to build the 14.60 km Package 5 of the Delhi – Meerut Expressway project (NE-3) after the National Highways Authority of India (NHAI) opened technical bids today.
This 4 lane spur or connector is also referred to as Phase 5. It will connect Zainuddinpur to Jahidpur from Km. 50.000 of Package 4 to Km. 8.520 of NH-235 and provide another route linking up to south Meerut.
NHAI invited tenders for its construction in March 2021 with an estimate of Rs 524.96 crore and 2 year completion deadline.
Bidders:
APS Hydro Pvt Ltd.
Atlas Constructions Pvt. Ltd.
Brij Gopal Construction Co. Pvt. Ltd.
CDS Infra Projects Ltd.
Ceigall India Ltd.
Dineshchandra R Agrawal Infracon Pvt. Ltd.
DP Jain and Company Infrastructure Pvt. Ltd.
Galfar Engineering and Contracting India Pvt. Ltd.
Ganeshgarhia Construction Pvt. Ltd.
Gawar Construction Ltd.
HG Infra Engineering Ltd.
ITD Cementation India Ltd.
KRC Infaprojects.com
Krishna Constellation Pvt. Ltd.
Raj Shyama Constructions Pvt. Ltd.
R.G. Buildwell Engineers Ltd.
RK Jain Infra Projects Pvt. Ltd.
Royal Infraconstru Ltd.
RP Infraventure Pvt. Ltd.
Sam India Builtwell Pvt. Ltd.
S and P Infrastructure Developers Pvt. Ltd.
Shivalaya Construction Co Pvt. Ltd.
Shiv Build India Pvt. Ltd.
Spetsdorstroy LLC
Wagad Infraprojects Pvt. Ltd.
Tender: NHAI/Delhi/DME/ Package-V/2021
Brief Scope: Construction of 4 lane Connector from Delhi Meerut Expressway (Km. 50.000 of Package IV) to Km. 8.520 of NH 235 in the State of Uttar Pradesh on EPC Mode (Length 14.600 Km).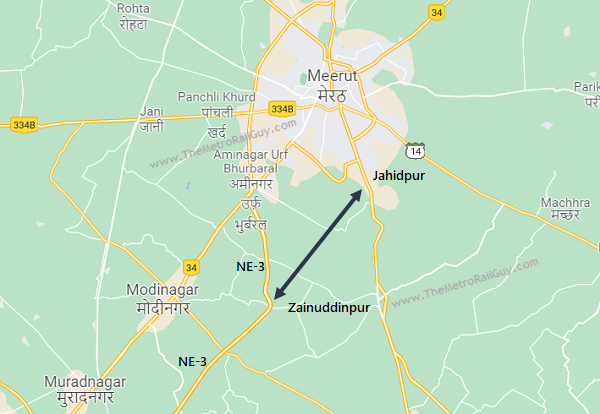 The bids have now been sent for technical evaluation which can take a couple months to complete. When that is done, the financial bids of the technically qualified bidders will be opened to reveal who's the lowest bidder and most likely contractor.
The upcoming 594 km Ganga Expressway project by UPEIDA will have its northern terminal in Phase 1 somewhere around Jahidpur and I'm expecting this little link to connect up with it in some fashion.
For more updates, check out the Expressways section or my Home Page!
– TMRG