Ten firms have submitted bids to construct 44.6 km Package 14 of the roughly 650 km Delhi – Amritsar – Katra (DAK) Expressway after National Highway Authority of India (NHAI) opened technical bids on Wednesday.
This 4 lane (expandable to 8) greenfield project's Phase 1 consists of 12 packages for the 397.71 km KMP Expressway (Delhi) – Gurdaspur section and 3 packages for the 99 km Nakodar – Amritsar spur.
Package 14 spans across Punjab and Jammu & Kashmir border and is part of Phase 2 connecting Gurdaspur – Pathankot – Jammu – Katra. This phase will see a mix of greenfield and brownfield upgrades of the existing NH-54 (old NH-15) and NH-44 (old NH-1) highway.
NHAI invited bids for Package 14 in September 2021 with a 748 day deadline (approximately 2 years).
Bidders
APCO Infratech
Ceigall India
DRA Infracon
DP Jain and Company
GR Infraprojects (GRIL)
HG Infra Engineering
Megha Engineering and Infrastructures (MEIL)
Oriental Structural Engineers
PNC Infratech
Vishwa Samudra Engineering
Brief Scope: Const. of 4 by 6 lane access-controlled expway from Jn. with Pathankot Gurdaspur Rd NH54 near Balsua to Jn. with Hiranagar Rd near Gurha Baildaran 423.500 to 468.100 of Delhi Amritsar Katra Expway on HAM under BMP in Punjab and UT of JandK Ph2-Pkg14
I don't have a decent alignment map for Phase 2 connecting Gurdaspur-Katra. If someone does, leave a comment below or shoot me an message here.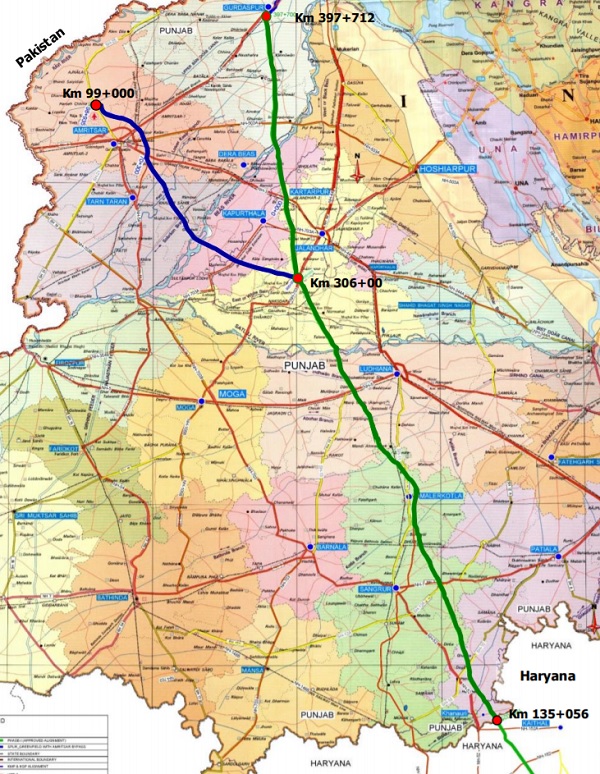 The bids have now been sent for technical bid evaluation which can take a couple months to complete. When that is done, the financial bids of the technically qualified bidders will be opened to reveal who's the lowest bidder and most likely contractor.
A list of this expressway's 15 packages and their status can be viewed here.
For more updates, check out the Expressway section or my Home Page!
– TMRG