7 construction firms have submitted bids to build the 27 km Package 1 of the 210 km Delhi – Saharanpur – Dehradun Expressway's 119 km Phase 2 connecting EPE – Saharanpur.
This 6 lane greenfield expressway will be developed in 4 phases. Its 119 km Phase 2 lies within Uttar Pradesh and connects the Eastern Peripheral Expressway near Baghpat with Latifpur village at the Saharanpur Bypass through 4 civil packages ranging from 25.5 to 37 kms.
NHAI had originally invited bids for it in January with a 2 year construction deadline. Krishna Constructions was the lowest bidder in June, but a contract was never awarded, for unknown reasons, despite Krishna's bid being significantly lower at Rs. 580.00 crore versus NHAI's estimate of Rs. 728.90 crore
Technical bids were opened on November 23.
Bidders:
DP Jain and Company Infrastructure Pvt. ltd.
KRC Infraprojects
Krishna Constellation Pvt. Ltd.
PNC Infratech Ltd
Raj Shyama Constructions Pvt. Ltd.
Ravi Infrabuild Projects Pvt. Ltd.
Sam India Builtwell Pvt Ltd
Scope: Development of six lane access control greenfield highway of Delhi-Saharanpur-Dehradun EC under Bharatmala Pariyojana from Junction of EPE Design Ch 0.000 to Design Ch 27.000 (Vill.-Lohadda) in the state of UP on EPC Mode (Package-I) 2ND CALL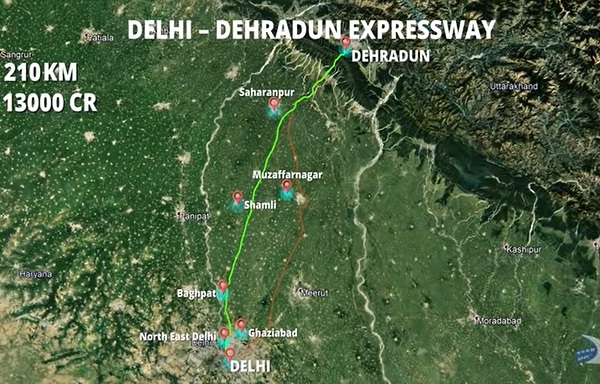 Some useful links of this package shared by follower Kanishka: alignment ; KML alignment file (view this on Google Earth); linear plan and junctions (page 12-15)
The bids have now been sent for technical bid evaluation which can take a couple months to complete. When that is done, the financial bids of the technically qualified bidders will be opened to reveal who's the lowest bidder and most likely contractor for this package.
Details on this expressway along with a list of all packages and their status can be viewed here.
For more updates, check out the Expressway section or my Home Page!
– TMRG