February 14, 2022 Update: KEC International – Sam India JV is lowest bidder (L1) – see details and bid values.
December 12, 2021 Original Post: 13 construction firms have bid for the construction contract of Bhopal Metro's Subhash Nagar Depot (Package BH06) after Madhya Pradesh Metro Rail Corporation (MPMRC) opened technical bids on December 3.
This depot of Bhopal Metro's Phase 1 project is the 3th civil package so far and will be built on a 26.1 hectare land parcel, just west of Subhash Nagar Station. It will serve as a common depot for two of the city's metro lines – the under construction 14.99 km Purple Line (Karond Circle – AIIMS) and the 12.88 km Red Line (Bhadbhada Square – Ratnagiri Tiraha) which is in the planning stage.
MPMRCL invited tenders for the depot's construction in August with a 3 year completion deadline and Rs. 322.91 crore estimate to be funded by the European Investment Bank (EIB) via a €400 million loan.
Lead Bidders (some might be in JV with others):
Altis Holding Corporation
Amara Raja Infra Pvt Ltd
Bansal Construction Works Pvt. Ltd.
Bridge and Roof Company India Ltd.
Cube Construction Engineering Ltd.
Engineering Projects (India) Ltd.
IRCON International Ltd.
KEC Ltd.
Montecarlo Ltd.
Shalimar Corp Ltd.
SMS Ltd.
Suroj Buildcon Pvt. Ltd.
URC Construction Pvt. Ltd.
Package: BH-06
Brief Scope: Construction of Rolling Stock Depot cum Workshop at Subhash Nagar for Bhopal Metro Rail Project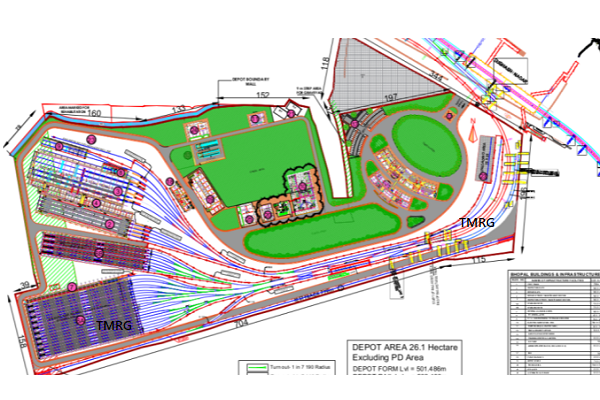 The depot is planned to be built to IGBC platinum rating standards and will including standard train stabling, washing / cleaning, inspection, maintenance, repairs and overhaul facilities. Other design details such as the number of stabling, workshop, inspection lines wasn't mentioned in the basic tender notice and still remains unknown at this time.
All 13 bids have now been sent for technical bid evaluation which can take a couple months to complete. When that is done, the financial bids of the technically qualified bidders will be opened to reveal who's the lowest bidder and most likely contractor for its construction.
Bhopal's Subhash Nagar Depot will initially house 27 train-sets of 3 coaches (total 81 coaches) as part of a larger 156 coach rolling stock contract, combined with Indore Metro, for which bidding is currently underway. A week prior to this, MPMRCL received 16 bids for Indore's Gandhi Nagar Depot – see details.
For more updates, check out the Bhopal section or my Home Page!
– TMRG