December 22 Update: NHAI has issued contract LOA to IRCON International
December 20 Original Post: IRCON International last week emerged as the lowest bidder to construct Package 3 of the 91 km Ludhiana – Rupnagar Expressway (NH-205K), after the National Highways Authority of India (NHAI) opened financial bids.
This 6 lane greenfield access-controlled project in Punjab with 3 packages will connect Manewal village on the Delhi – Katra Expressway (NE-5) with Bheora village near Rupnagar (Ropar). It will also feature an additional 19.5 km spur to Kharar, just east of Chandigarh and Mohali.
Package 3 is 44.50 km long and lies on the eastern-side of the project between chainage 66.000 and 91.000. Its scope also includes constructing the 19.5 km Kharar Spur.
NHAI originally invited tenders for its construction in mid-January 2021 with a Rs. 1162.11 crore estimate and 2 year deadline. That tender received 16 bids in July with Ceigall India subsequently emerging as the lowest bidder. The tender was cancelled in October for unknown reasons with bids shortly getting re-invited.
NHAI's Estimate: 981.79 crore
Financial Bid Values (lowest 5)
| | |
| --- | --- |
| Firm | Bid (Rs. Crore) |
| IRCON | 1107 |
| Ravi Infrabuild | 1130 |
| GR Infraprojects | 1151 |
| Megha Engineering | 1168 |
| Ceigall India | 1170 |
Brief Scope: Construction of Four/Six lane Greenfield Ludhiana – Rupnagar National Highway no. NH-205K from junction with NE5 near to Manewal Ludhiana to junction with NH205 Bheora Rupnagar including spur to Kharar with Ludhiana bypass under BMP in Punjab on HAM Pkg2 of total length 46.80
The following map is from the government's environment clearance site. The main expressway's alignment is shown in red color while the spur is shown in aqua.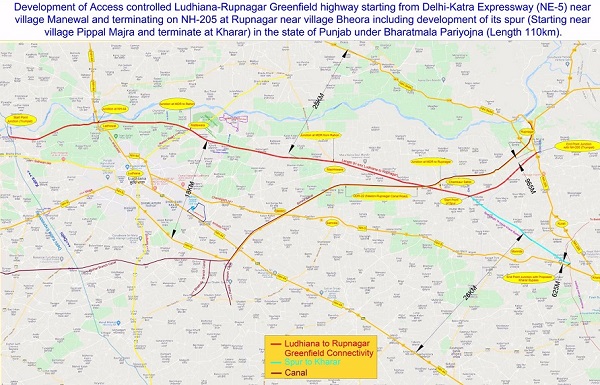 IRCON's bid was 12.75% higher than NHAI's estimate which I believe is within NHAI's acceptable limits. Following potential negotiations, a contract can be expected to be awarded in January.
This expressway with 3 packages has been designed with a 60m ROW (right of way) at an estimated cost of Rs. 2792 crore. With this development, the likely contractors for all packages are now known – see a list and project details here.
For more updates, check out the Expressways section or my Home Page!
– TMRG