February 23, 2022 Update: PNC Infratech is lowest bidder – see details.
December 27, 2021 Original Post: 16 construction firms have submitted bids to build the 17.52 km Package 1 of the 62.7 km Kanpur – Lucknow Expressway (NE-6) project after the National Highways Authority of India (NHAI) opened technical bids.
This 6 lane access-controlled highway will be upgradeable to 8 lanes and connect Shaheed Path in Lucknow with Azad Chauraha near Kanpur's Ganga Bridge. It will run parallel to NH27 and consist of a 3.375 km elevated portion between Amausi and Bani which lies under Package 1's scope.
NHAI invited tenders for its construction under the Hybrid Annuity Mode (HAM) model in September 2021 with a 2.5 year deadline and Rs. 1675.18 crore estimate.
Bidders:
APCO Infratech Pvt. Ltd.
Ashoka Buildcon Pvt. Ltd.
Brij Gopal Construction Co.
Ceigall India Ltd.
Dilip Buildcon Ltd.
Dineshchandra R Agrawal Infracon Pvt. Ltd.
DP Jain and Company Infrastructure Pvt. Ltd.
Gawar Construction Ltd.
GR Infraprojects Ltd.
HG Infra Engineering Ltd.
IRB Infrastructure Developers Ltd.
Megha Engineering and Infrastructures Ltd.
Montecarlo Ltd.
PNC Infratech Ltd.
Shankarnarayana Constructions Pvt. Ltd.
Vishwa Samudra Engineering Pvt. Ltd.
Brief Scope: Construction of Six lane upgradable to Eight lane of Kanpur Lucknow Expressway including spur from Km 10+980 to Km 28+500 in the state of Uttar Pradesh on Hybrid Annuity mode under Bharatmala Pariyojana (Package-I)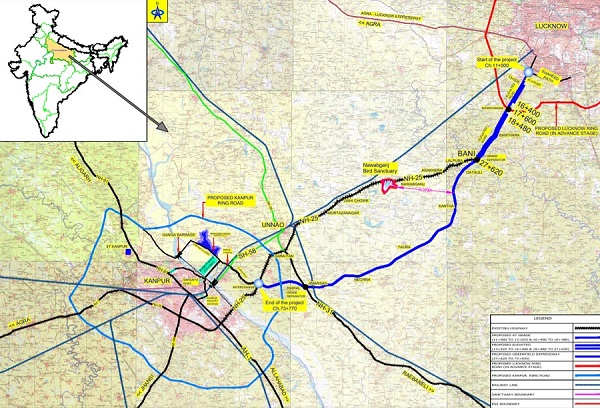 India's environment ministry hasn't issued a NOC for the project's construction due its alignment passing through forest land, so a minor realignment might take place where the expressway and Lucknow Ring Road intersect.
Anyhow, all 16 bids have now been sent for technical bid evaluation which can take a couple months to complete. When that is done, the financial bids of the technically qualified bidders will be opened to reveal who's the lowest bidder and most likely contractor for this package.
Design details on the Lucknow-Kanpur Expressway along with a list of all packages and their status can be viewed here.
For more updates, check out the Expressway section or my Home Page!
– TMRG