GR Infraprojects Ltd. (GRIL) today emerged as the lowest bidder for constructing a 9.605 km extension of Noida Metro's Aqua Line from Noida Sector-51 to Greater Noida West's Sector-2.
This is the fourth round of bidding for this section (Package NGNC-01) of the Aqua Line's 14.95 km eastern extension (Sector 51 to Knowledge Park V) which was approved for construction by the Uttar Pradesh government in December 2019.
Noida Metro Rail Corporation (NMRC) re-invited bids in May-end with a Rs. 563.04 crore estimate and a 24 month deadline. Technical bids were opened in June to reveal 3 bidders.
Financial Bid Values
| | |
| --- | --- |
| Firm | Bid (Rs. Crore) |
| GR Infraprojects | 592.99 |
| Ashoka Buildcon | 646.97 |
| Sam India Builtwell | Disqualified |
Package: NGNC-01
Brief Scope: Part Design and Construction of Elevated Viaduct and 5 elevated stations viz NOIDA SEC -122, NOIDA SEC-123 GR. NOIDA SEC-4 ECOTECH-12 GR NOIDA SEC-2 (excluding Architectural finishing Works and PEB works of stations) from Chainage 0.00 m to Chainage 9605 m of Noida -Greater Noida Metro Rail Project.
This package consists of 5 elevated stations at Noida Sector 122, Noida Sector 123, Greater Noida Sector 4, Ecotech 12 (Tech Zone) and Greater Noida Sector 2.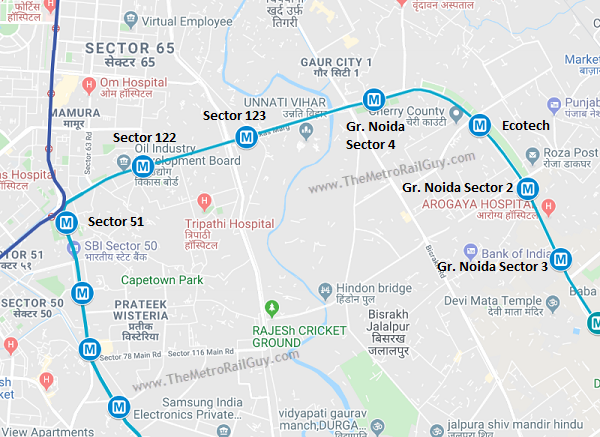 I'm surprised Sam India got technically disqualified, especially since they've qualified and delivered civil projects solo or in a JV for not just Delhi Metro and Lucknow Metro, but Noida's Aqua Line were they partnered up with CEC between 2015-2019.
Anyhow, GR Infra's bid was just 5.32% higher than NMRC's estimate, so a contract should be awarded in 2022 provided no extraneous issues crop up. NMRC has displayed a wishy-washy approach for this extension's development, so it might be a while before that happens.
When that happens, GR Infra will be assisted by the Delhi Metro Rail Corporation (DMRC) as the project's General Consultant (GC) and Project Management Consultant (PMC).
For more updates, check out the Noida section or my Home Page!
– TMRG