Bangalore Metro Phase 1 – Information & Map
Menu: Construction Updates | Overview | Phase 1 Info | Phase 2 Info | Phase 2A Info | Phase 3 Info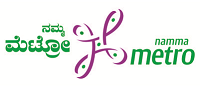 Phase 1 Information
Construction for the first 42.30 km phase started in April 2007 and its first section, connecting Baiyyappanahalli – MG Road on the Purple Line, opened in 2011. The 6th (final) section was inaugurated by the President on June 17 2017 and commercial operations started on the next day.
This phase involved the construction of 2 new lines on standard gauge tracks:
#1 – Purple line – Baiyyappanahalli – Mysore Road  (18.10 km)
#2 – Green line – Nagasandra – Yelachenahalli (erst. Puttenahalli) (24.20 km)
The embedded map below shows the exact location of all stations and can be zoomed into!
Key for map below: Phase 1 | Phase 2 | Phase 2A | Phase 2B
History – Key Dates of Phase 1
20 Oct 2011: Baiyyappanahalli – MG Road (Purple line) – 6.7 km
01 Mar 2014: Sampige Road – Peenya Industry (Green line) – 9.9 km
01 May 2015: Peenya Industry – Nagasandra (Green line) – 2.5 km
16 Nov 2015: Mysore Road – Magadi Road (Purple line) – 6.4 km
29 Apr 2016: MG Road – Magadi Road (Purple line) – 4.8 km
19 June 2017: Sampige Road – Yelachenahalli (Green line) – 12 km
Menu: Construction Updates | Overview | Phase 1 Info | Phase 2 Info | Phase 2A Info | Phase 3 Info