After launching the start of work for the 16.34 km east-west line's underground stretch in January, Railway Minister Suresh Prabhu on this Sunday launched the start of work for the 18.13 km Noapara – Barasat line's 1.75 km underground stretch! This short underground section from Jessore Road to the Netaji Subhas Chandra Bose International Airport (Bimanbandar) is part of the 6.87 km section between Noapara and the Airport which includes intermediate stations at Dum Dum Cantonment and Jessore Road.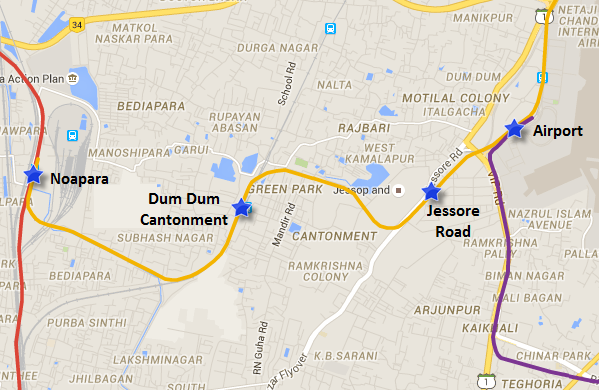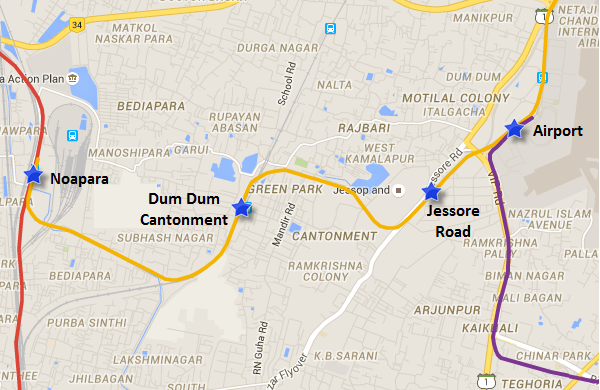 Contract details for this section:
1) Tantia Constructions: At-grade between Noapara and Br. No 3, 1.70 km  (Rs 73 crores)
2) Senbo Engineering: At-grade between Br. No 3 and Dum Dum circular ramp, 2.16 km (Rs 127 crores)
3) Unknown contractor: At-grade between Dum Dum circular ramp and Jessore Road, 1.26 km
4) Unknown contractor: Underground between Jessore Road and NSCI Airport, 1.75 km
Even though the line was approved in 2010, it has taken 5+ years for key approvals and settlements with private land owners to be reached. In 2012, the Airports Authority of India cleared the airport station's construction which will also serve as the northern terminal of the 32 km under construction New Garia – Airport line. Last year, the Railways was also able to reach a settlement with Saregama for acquiring a piece of their studio's land on Jessore Road. But that's not the end of troubles. With 800 or so encroachers still sitting on railway land near Dum Dum Cantonment, there still isn't a clear right-of-way for the at-grade construction to be carried out.
North of the airport, Larsen & Toubro had won 2 contracts to build the elevated line up to Barasat but made an exit in 2013 after it wasn't able to find a clear right-of-way owing to massive encroachments on the line's proposed alignment which the state government could not resolve. Due to that, the Railways in late-2015 finally decided to put the 11.26 km section between the Airport and Barasat on-hold, and concentrate on first getting clearances & removing encroachments from the Noapara – Airport stretch.
For more updates on Kolkata's Metro, check out the Kolkata section of The Metro Rail Guy!
– TMRG