With all tunneling works recently wrapped up on the 9.37 km Central Secretariat – Kashmere Gate section of the Delhi Metro's Violet line, the countdown has begun to start commercial operations on the remaining 5.37 km ITO-Kashmere Gate section of it!
The Delhi Metro Rail Corporation recently announced that it aims to complete this section by September, but internally it appears to be chasing a little tighter deadline of August 15 – India's Independence Day. Here's a document scooped up from the DMRC's planning department which goes over that piece of info. To make that possible, they're aiming to complete all works and submit an application to the Commissioner of Metro Railway Safety (CMRS) for carrying out its safety inspection by June 30 2016.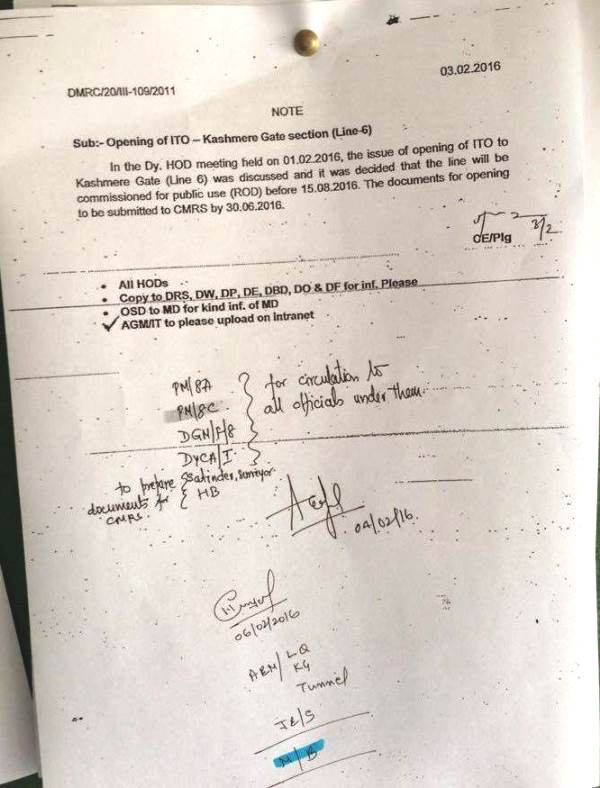 To recap – under the Delhi Metro's Phase-III project, the Violet Line is currently being extended by a distance of 9.37 km from Central Secretariat to Kashmere Gate. Out of this, the 3.03 km Central Secretariat – Mandi House stretch became operational on June 26 2014 and the .972 km Mandi House – ITO stretch on June 8 2015 – See: Delhi Metro's History. The remaining 5.37 km section  which is yet to be opened includes new stations at Delhi Gate, Jama Masjid, Lal Qila and a new station box with platforms at the existing Kashmere Gate station from where passengers can interchange to the Yellow & Red lines.
For construction purposes, the line was divided up into 3 contracts. Here's a list along with the contractors:
• Contract CC-01 from Central Secretariat to Mandi House: Pratibha – CRFG JV
• Contract CC-05 from Mandi House to Jama Masjid: L&T – SUCG JV
• Contract CC-07 from Jama Masjid to Kashmere Gate: Era – Metrostroy JV
The DMRC for the most part walks the talk, so an August opening of the line wouldn't be too far fetched. Its contractors have steadily & quietly been working on the stations' interiors while the tunneling works were in progress. A couple recent images from within the Delhi Gate & Jama Masjid stations can be seen here. I regularly share a lot more images through my Twitter account (@TheMetroRailGuy), so follow me for the latest!
For more updates on the Delhi Metro's Phase 3, check out the Delhi section of The Metro Rail Guy!
– TMRG