As per a report published in the TOI, the Bangalore Metro Rail Corporation on Tuesday presented and reviewed different lines of the Phase 3 project with the Ministry of Urban Development!
The Phase 3 project has been on the drawing board for many years, and in early 2013 the BMRCL narrowed down to 5 lines totaling 150.94 km. In June 2013, they published a press note listing the routes and indicating they've have engaged RITES Limited, an engineering consultancy firm, to prepare each line's pre-feasibility study in 6-9 months and their Detailed Project Report (DPR) in one and a half years.
Fast forward to 2016 – With the pre-feasibility studies complete and the government showing keen interest in developing Light Rail lines on two of the corridors, the Phase 3 project has now been shortened to 102 km. While the TOI report does not give a breakdown of the lines & their respective length, here's a list of corridors & their approx length which are currently on the table:
1. Nagavara – Airport (23 km) – shown in Red
2. Carmelaram – Yelahanka (32 km) – shown in Blue
3. Marathahalli – Hosakerehalli (21 km) – shown in Pink
4. Silkboard – KR Puram – Hebbal (29 km) – shown in Brown
Note: The lines & their exact lengths have not been finalized and do not add to the 102 km figure. Line colors & alignment are only indicative. Once the DPR is finalized (time-frame unknown), a more accurate picture will emerge.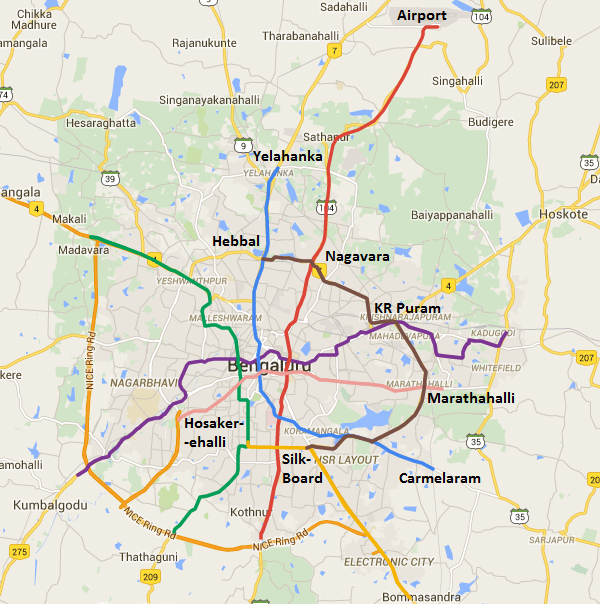 Details:
1. Nagavara – Airport (23 km) 
RITES had initially suggested 5 routes in March 2015 after which the Government of Karnataka requested them to focus on 2 routes: (1) Nagavara to Airport via Tanisandra & Begur and (2) Nagavara to Airport via Hebbal & Yelahanka (NH7). See a map & more specific details about this line here: RITES Examining 2 Routes to Connect Nagavara with Bangalore's International Airport in Phase 2A.
As per NM Dhoke, BMRCL's Director of rolling stock and operations:
The RITES feasibility study is complete but the cabinet has to approve the project before BMRC does detailed project report. Based on it, the Centre will approve and sanction funds. The airport link will be part of Phase 3 of Namma Metro.
As per the MD of BMRCL, they are yet to take a decision on which route they'll pursue or whether it'll be an express or regular metro line with more frequent stops. The state government has been insisting on the NH7 route as they've already acquired land around the highway.
2. Carmelaram – Yelahanka (32 km)
This line is officially said to have its eastern terminal at Sarjapur, but is expected to start from Carmelaram and pass through/by Bellandur, Koramangala, Madiwala, Dairy Circle, Wilson Garden, Town Hall, Central College, Cunningham Road, Palace Guttahalli, Mekhri Circle, Sanjay Nagar, Hebbal, Sahakar Nagar, Yelahanka to reach Kogilu Road.
3. Marathahalli – Hosakerehalli (21 km)
This line's eastern terminal will be located at Marathahalli and is expected to pass through/by the Old Airport Road, Command Hospital, D'Souza Circle, Vellara Junction, Town Hall, KR Market, RK Ashram, Srinivas Nagar, Seetha Circle to reach Hosakerehalli on the Outer Ring Road.
4. Silkboard – KR Puram – Hebbal (29 km)
This line has a fairly straight-forward alignment along the Outer Ring Road. With the government preferring a Light Rail on the western & southern routes, this line has been shortened from 64.37 km to about 29 km. Its southern terminal is proposed to be located at Silkboard junction after which it'll pass through/by HSR Layout, Green Glen Layout, Bellandur, Kadubeesanahalli, Chandra Layout, Anand Nagar, Mahadevapura, Krishnarajapuram (KR Puram), Kasturi Nagar, HRBR Layout, Kalyan Nagar, Nagavara, Jogappa Layout to reach Hebbal.
Two maps have been embedded below to show how the system might look like if the above lines' DPR is approved & built. You can zoom in/out to view specific areas:
Guide for map below: Phase 1 | Phase 2 | Phase 3
In December 2015, the CPRO of BMRCL indicated that RITES will submit Phase 3's DPR in another "6-8 months". If that assessment holds true, then news about it should emerge within the next couple of months. The Airport line's DPR will be prepared after all stakeholders take a stand and choose an alignment & type of service. If they select the national highway route, then it'll throw the Carmelaram – Yelahanka line into a disarray.
For more updates, check out the Bangalore section of The Metro Rail Guy!
– TMRG