Besides using Tunnel Boring Machines (TBMs) to excavate & build tunnels for running metro trains, civil contractors in all metro projects across the world also build cross-passage tunnels for providing passengers with an emergency escape route to the parallel tunnel and for performing maintenance work. These cross-passages are reinforced concrete structures and are typically found at regular intervals of every 250-400 meters depending upon the length of the tunnels between adjacent stations & soil characteristics.
Work for building the passages are usually taken up only after the tunnels are built to ease working conditions and increase efficiency, but there have been times when work has commenced while tunneling is still in progress. Excavating them is always unpredictable, and the time for building these really depends on the soil, water & gas conditions, and sometimes on irate property owners who get concerned about the impact to their buildings above.
Multiple methods exist to build them. Here's a short informative video of one of them:
The upcoming 24.20 km Green Line in Bangalore has about 4.0 km of twin tunnels running through the heart of the city and the 1.5 km Sampige Road – Majestic section consists of two such passages being built by the CEC-SOMA-CICI JV that are in various stages of completion right now:
North of Indian Railways' line in Seshadripuram
South of Seshadri Road on Dhanvantri Road
In this post, let's take a look at the cross passage #2 on Dhanvantri Road. Unlike other sites where excavation starts from both tunnels and ends right in the center as seen in the above video, in this case, work started using the top-down approach and will end at both tunnels resulting in 2 breakthroughs. Piling works to build a shaft for it began in February 2016, a couple months after TBM Margarita made a breakthrough at the North Ramp and right after TBM Godavari passed by the site in the opposite direction towards the Majestic Station's North Shaft.
Recent satellite imagery of the Dhanvantri Road Shaft:
Some images shot on the morning of August 2, 2016: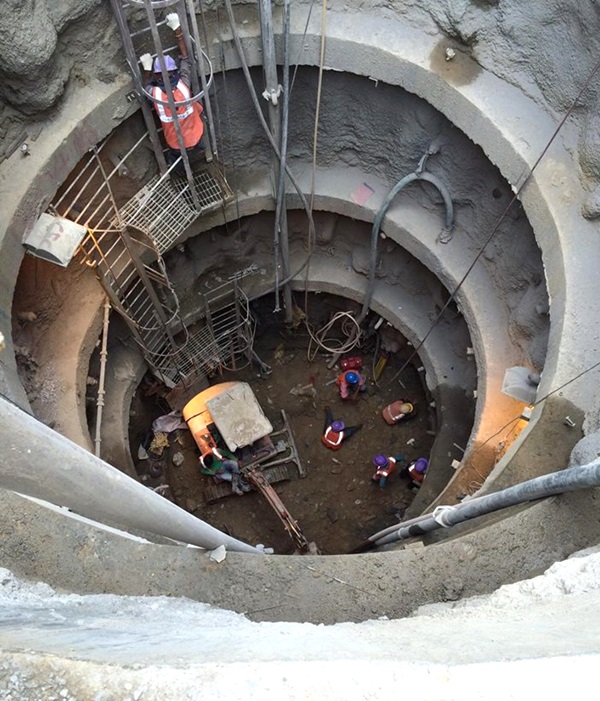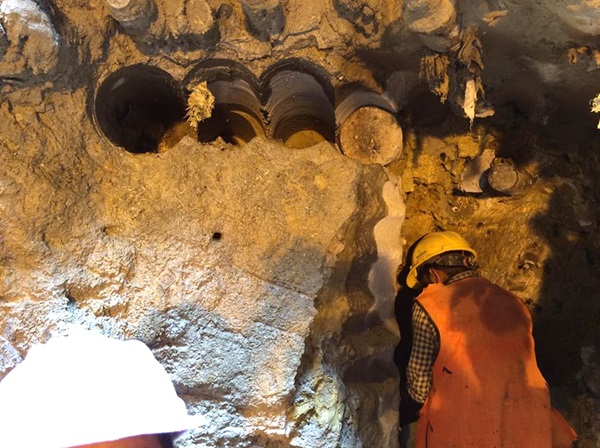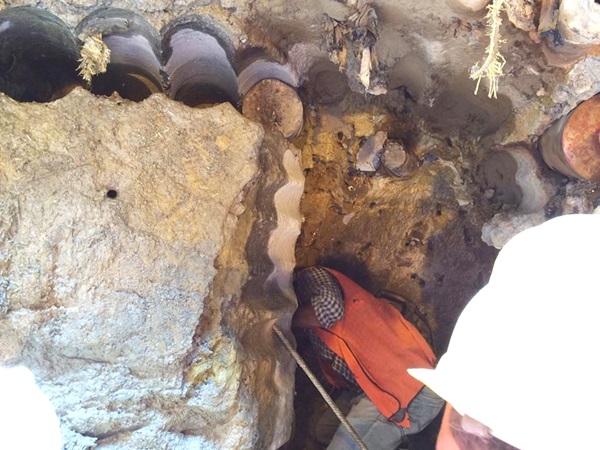 Work is carried out by a hydraulic drill machine (seen in the 1st image) and sometimes low-grade explosives are also used to blast through the rock. The 2 breakthroughs are expected to take place in another month's time after which workers will begin finishing works, covering up the shaft and back-filling it with soil.
For more updates, check out the Bangalore section of The Metro Rail Guy!