Following the completion of excavation work at Delhi Metro's Gurdwara Emergency Shaft in north Delhi's Rameshwar Nagar, the CEC-CICI JV earlier this month brought out parts of its TBM#2 (S781) and then had TBM#4 (S495) make a breakthrough on December 19. Both these Herrenknecht TBMs (1 original & 1 rescue) were deployed from either ends (Azadpur & Majlis Park Ramp) to complete the up-line tunnels of the long-delayed 58.596 km Pink Line.
To rehash from an earlier post, this emergency shaft was created so that the cutterhead and shields of 4 Tunnel Boring Machines (2 original & 2 rescue) could be lifted out to mark an end to tunneling works for package CC-04 (Mukundpur – Shalimar Bagh) of the 58.596 km Pink Line which is located at the mouth of the Mukundpur Depot. Without completing this critical section, the DMRC cannot begin operations on the rest of the line. The CEC-CICI JV commissioned both rescue TBMs S495 & S496 in April 2016 and started excavation works for the mid/emergency shaft in June 2016. If this shaft/development is new to you, then I'd suggest clicking on the links above to catch-up on what went wrong during tunneling, why 2 rescue TBMs were deployed and why this shaft is important for commercial operations to begin.
TBM#2 (S781)
TBM#4 (S495)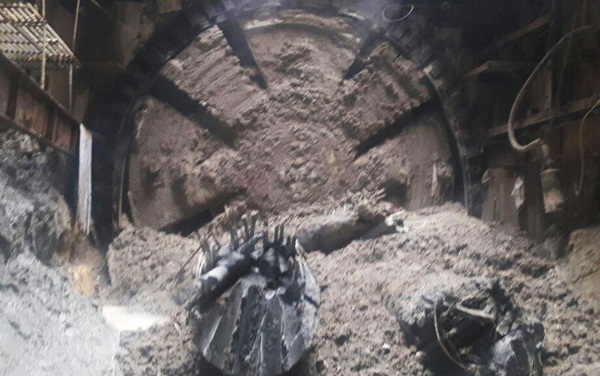 Next up, TBM#3 (S496) will make a breakthrough followed by TBM#1 (S780) on the down-line. Both are patiently sitting on either end of the shaft waiting for S495's parts to be dismantled and hoisted out. As and when they're removed, I'll either post here or share updates via my Twitter handle.
For more updates, check out Delhi section of The Metro Rail Guy!
– TMRG