We have a date!
After receiving a confirmation from President Pranab Mukherjee's office, a letter by the principal secretary to Karnataka's Chief Minister has confirmed that the Bangalore Metro Rail Corporation Ltd. (BMRCL) will inaugurate its 12 km Sampige Road – Yelachenahalli section of the Green Line on June 17 (Saturday) between 6 – 7 pm.
A detailed programme has not been released yet, but the launch event, which will mark the completion of the 42.30 km Phase 1 project, is likely to take place either at the Vidhana Soudha or National College's grounds. BMRCL usually starts commercial operations a day later, and is likely to open its doors to locals either on or after June 18 depending on the completion of finishing works at Chickpet & KR Market stations to comply with the Commissioner of Metro Rail Safety's suggestions.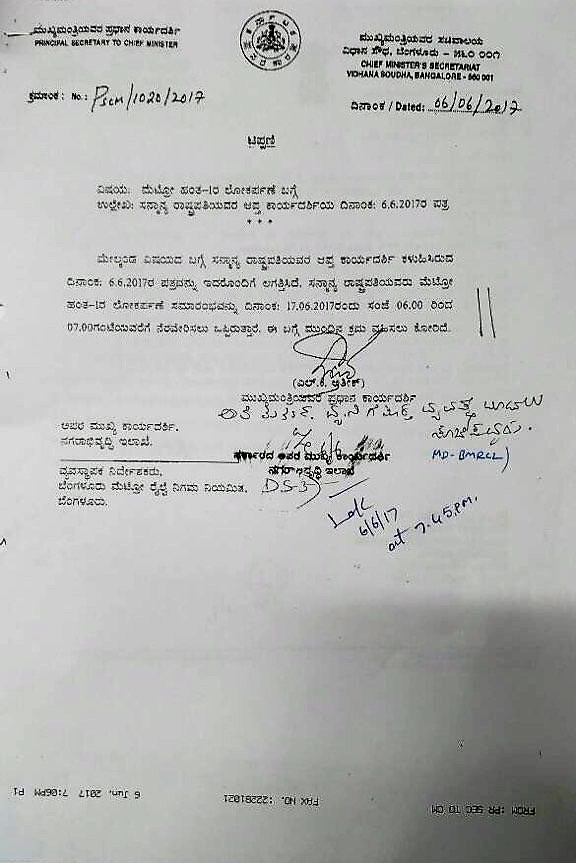 Trial runs on this section were first launched on the 8 km elevated Reach-4/4A between National College and Yelachenahalli in November 2016, and then extended northward through the 4 km underground UG-1 section between Sampige Road and National College in March 2017. A team from the Research Design & Standards Organisation (RDSO) conducted speed trials in early May which was followed by a certification of the line's signalling system by an Independent Safety Assessor. The Commissioner of Metro Rail Safety (CMRS) conducted a final safety inspection over 4 days (May 29 – June 1) and is expected to certify the line fit for operations by the end of this week.
This last section of Phase 1 will add 12 kms to the operational network with new platforms at Kempegowda Majestic Station and 10 new stations at Chickpet, KR Market, National College, Lalbagh, South End Circle, Jayanagar, RV Road, Banashankari, JP Nagar, Yelachenahalli (erst. Puttenahalli):
Phase 1's construction commenced in April 2007 and was originally slated to be completed in December 2011. Here's a quick timeline of when each stage opened up (here's a map if needed):
• 20 Oct 2011: Baiyyappanahalli – MG Road (Reach-1, Purple line) – 6.7 km
• 01 Mar 2014: Sampige Road – Peenya Industry (Reach-3/3A, Green line) – 9.9 km
• 01 May 2015: Peenya Industry – Nagasandra (Reach-3B, Green line) – 2.5 km
• 16 Nov 2015: Mysore Road – Magadi Road (Reach-2, Purple line) – 6.4 km
• 30 Apr 2016: MG Road – Magadi Road (UG-2, Purple line) – 4.8 km
• XX June 2017: Sampige Road – Yelachenahalli (UG-1, Reach-4/4A, Green line) – 12 km
XX = yet to be announced
Once inaugurated, the Green Line will become 24.20 km long and finally be connected to the Purple Line at Majestic Station. BMRCL plans to deploy 27 of its 50 3-coach BEML trains on the entire line and initially run them at a frequency of 6 minutes through 24 stations. From its existing average ridership of 1.75 lakh/day on 2 fragmented segments, it hopes to see an average ridership of 4-5 lakhs/day from the onset.
On a side note, Kochi Metro's 1st 13 km stretch will also be inaugurated on June 17, so India will add 25 km of new metro lines on that June 17-18 weekend on top of its existing 338 km figure.
For more updates, check out the Bangalore section of The Metro Rail Guy!
– TMRG