Workers from L&T-STEC JV earlier this month started secant piling work to build a guide-wall for Mumbai Metro Line-3's Hutatma Chowk Station in south Mumbai. The station is being built as a part of the 4.25 km package UGC-01 which was awarded in July 2016 for a value of Rs. 2,988.53 crores.
Out of 4 stations on this package (others are Cuffe Parade, Vidhan Bhavan and Churchgate), this will be the northernmost station and also the location from where L&T-STEC's 2 Robbins Crossover TBMs will commence their final journey towards the Chhatrapati Shivaji Terminus (CST) Station's TBM receiving shaft using tunnel segment rings produced in Wadala.
As per the interim consultancy report produced by a JV led by Japan's PADECO, the station is planned to be constructed using both the new Austrian tunneling method (NATM) and Cut & Cover (C&C) techniques, and is proposed to be only 17.75m wide x 252m long due to the narrow width of the site. Excerpt:
The station is located on Dr. Dadabhai Naoroji road having heritage structures on both sides. Also the carriage width available is only 20m, which is not adequate to accommodate a standard Cut & Cover station. Therefore the width of Cut & Cover box has been reduced to fit-in the available road width. Due to this only one track is housed within the C&C box. The other track tunnel, with integrated platform, is thus required to be taken below the properties and constructed by NATM.
Here are some images from the site which is barely 60m away from the iconic Hutatma Chowk (Flora Fountain) –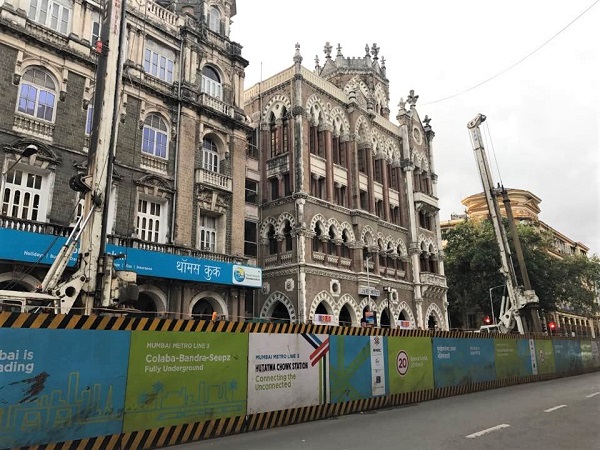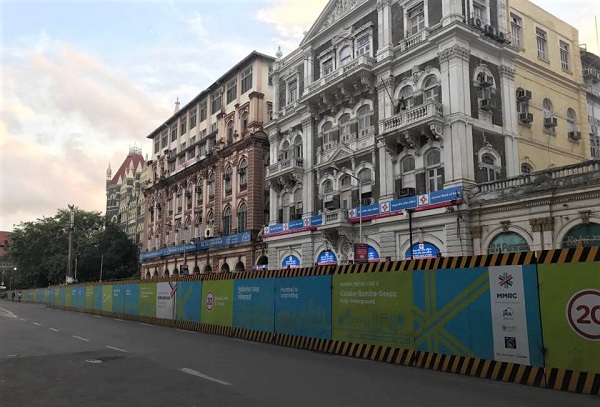 Here are two really nice videos which demonstrates how and why secant piling is used to build a strong retaining/guide-wall for station boxes –
For more updates, check out the Mumbai section of The Metro Rail Guy!
– TMRG