The Delhi Metro Rail Corporation has published a draft tender document on their website revealing that they'll procure 378 standard gauge coaches to run on Mumbai Metro's under construction 41.5 km Line-2 (Dahisar East – Bandra – Mandale) and 16.5 km Line-7 (Dahisar East – Andheri East). These coaches will be procured under package 'MRS1' and the contractor will be responsible for their overall design, manufacture, supply, installation, testing and commissioning.
A total of 63 trains will be procured and operated on both lines in 6 coach formations, and like the Delhi Metro's new Hyundai Rotem trains for the new Pink & Magenta lines, these trains will be capable of running without an operator or 'driverless' on the unattended train operation (UTO) mode.
As per the specifications, the coaches must be of modern design, lightweight made of stainless steel/aluminium, with 3 phase AC drive having V.V.V.F. control, regenerative braking, compatible to work with ATP, ATC, ATO,UTO (CBTC based) provided by other designated contractors and capable of operating on 25 KV AC single phase 50 Hz rigid/flexible Overhead Catenary System (OCS).
To support the Government of India's 'Make in India' campaign, the tender document stipulates that only 15 train-sets (90 coaches) can be manufactured at an off-shore facility while the rest must be manufactured in India. The DMRC mentions that the contractor shall establish facilities either independently or partner up with an a local manufacturer. On similar lines, they mention that the contractor must make efforts to source maximum number of equipment and material from within India in order to procure spares locally in the future to ease maintenance.
Here's a table listing the coaches' dimensions. Note that they'll be 3.2 meters wide similar to the CRRC stock on the 11.4 km Line-1: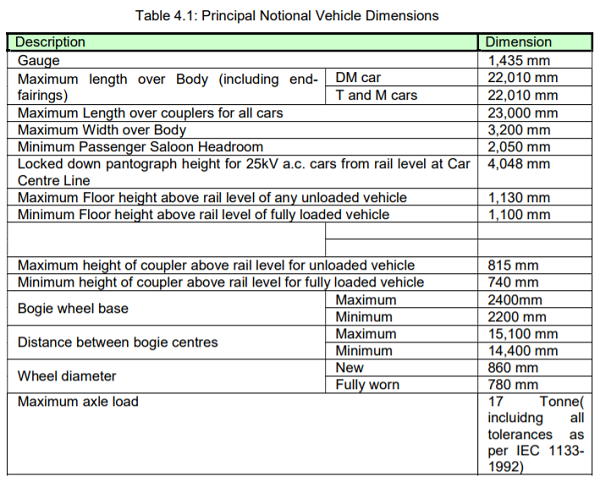 For more bidding and technical specifications, check out the draft tender document.
The DMRC expects the trains to cost Rs. 3900 crores and would like them all to be delivered within 210 weeks (4 years) of signing the contract. The trains' procurement will be financed by the Asian Development Bank (ADB) and the DMRC will invite bids from rolling stock manufacturers in the coming months only after they receive a thumbs up from the ADB for doing so.
For more updates, check out the Mumbai section of The Metro Rail Guy!
– TMRG