Day-2 of the 3-day final safety inspections on the 12.64 km Botanical Garden – Kalkaji Mandir section of Delhi Metro's new 38.23 km Magenta Line (Line-8) just came to a wrap a few hours ago.
Shailesh Kumar Pathak – the appointed Commissioner of Metro Rail Safety (CMRS) and his team of 5 other officials from the Indian Railways' northern Circle today inspected the Jasola Vihar – Botanical Garden station's down-line track, 3 stations at Kalindi Kunj, Bird Sanctuary & Botanical Garden, and then took a ride back on the up-line track to review the line's major curves and parapet clearances.
Here's the day's agenda with inspections commencing from where they left off on Day-1 –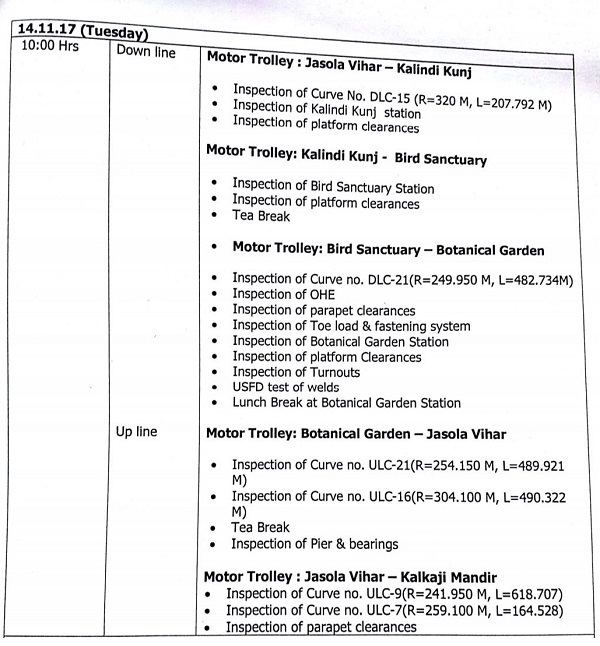 Here are a few images of an escalator being inspected at Botanical Garden Station in Noida. Everything, and I mean everything inside the station, from the PA system to signage to safety features to drinking water facilities to station access and its control room were checked for their operational readiness –
Demonstration of the automatic fare collection (AFC) gates –
Some general images from inside Botanical Garden Station –
As mentioned yesterday, the CMRS' team will include today's observations in their final report which is expected to be submitted to the Delhi Metro Rail Corporation (DMRC) by the end of this week. That report will include train operation suggestions, any necessary infrastructure corrections & completions prior to starting commercial operations, and whether an approval or conditional-approval has been granted or not.
For more updates, check out the Delhi section of The Metro Rail Guy!
– TMRG