The final round of safety inspections on the 12.64 km Botanical Garden – Kalkaji Mandir section of Delhi Metro's new 38.23 km Magenta Line (Line-8) are scheduled to be held over 3 days between November 13-15 by Shailesh Kumar Pathak – the Commissioner of Metro Rail Safety (CMRS) from the Indian Railways' Northern Circle.
These dates were conveyed in a letter sent yesterday by the Commission of Railway Safety, under the Ministry of Civil Aviation, to the Managing Director of the Delhi Metro Rail Corporation.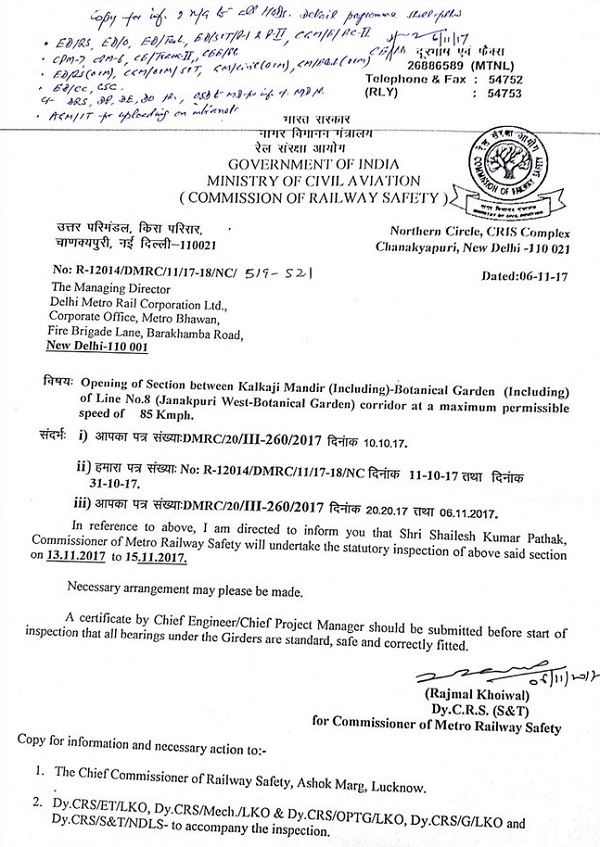 The inspection's agenda will be added here when known.
Update – Here's the programme for each day –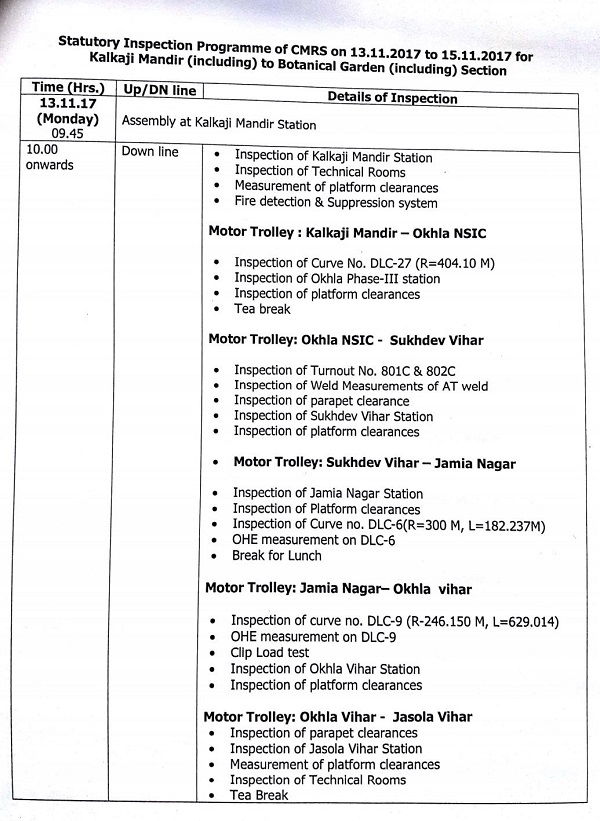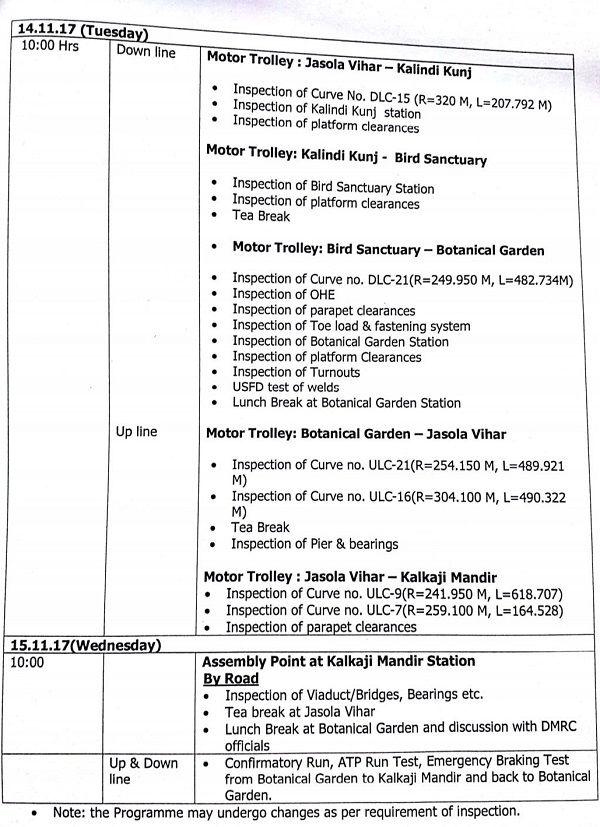 This will be the 6th time an inspection is held for commissioning any section of the 162.5 km Phase 3 project. In the upcoming inspection, the CMRS and his team will visually inspect the line's Kalindi Kunj Depot, tunnels (Kalkaji Mandir Station – Kalkaji Ramp), viaduct, tracks and all facets of the stations such as its PA system, signage, safety features, drinking water facilities, station access and control room. Images of recent inspections from other metro systems can be viewed here (Kochi) and here (Bangalore).
This first section of the line includes 9 stations at Kalkaji Mandir, Okhla NSIC, Sukhdev Vihar, Jamia Milia Islamia, Okhla Vihar, Jasola Vihar Shaheen Bagh, Kalindi Kunj, Okhla Bird Sanctuary and Botanical Garden. While Kalkaji Mandir is underground, all other stations are elevated –
Recent images of many stations getting ready for operations can be viewed here.
Once approved by the CMRS, the line's inauguration will depend on the availability of local & national ministers, as well as on the completion of any finishing works at the stations. After its inauguration, about 40 km of Phase 3's 162.5 km routes will be operational and the entire network will become about 230 km long.
For more updates, check out the Delhi section of The Metro Rail Guy!
– TMRG