The Delhi Metro Rail Corporation in a new map has for the first time officially acknowledged naming the under construction 4.295 km Dwarka – Najafgarh Line-9 of the 162.5 km Phase 3 project as the Grey Line.
Rumors of this short new line getting color-coded grey emerged in the local Hindi media back in 2015, but the DMRC hadn't ever referred to it as that in any of its publicly facing documents, webpages (see project status page) or press releases.
Here's a section of the Delhi Metro's smart new map –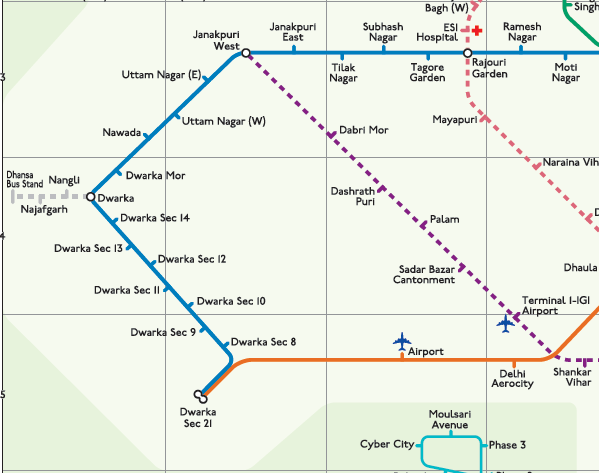 Here's the map's key which lists it as the Grey Line –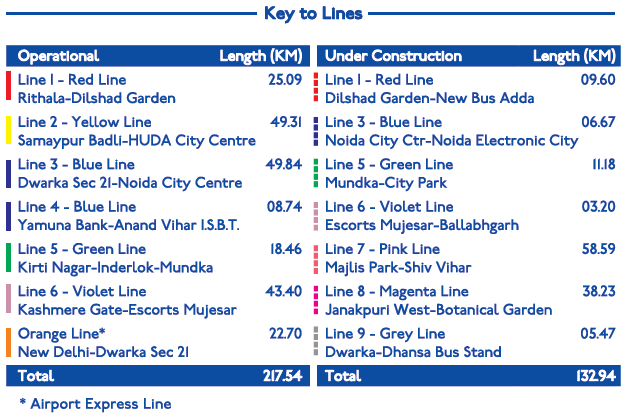 And here's the actual route of the line with 4 stations at Dwarka (interchange with Blue Line), Nangli, Najafgarh (underground) and Dhansa Bus Stand (underground) –
The last TBM breakthrough on the 665m Sai Baba Shaft – Najafgarh Station underground section was achieved by HCC in January 2017 and the DMRC is currently targeting to "complete" the line in December 2018. Back in September, SUCG Infrastructure emerged as the lowest bidder for constructing a 1.218 km underground extension further west to Dhansa Bus Stand. Once that new section is ready by 2022 (estimated), the entire line will become 5.340 km long.
With this development, grey has officially become the 9th color to be added to the 10-line Phase 3 network. In the upcoming Phase 4, the DMRC will develop 2 new lines (Inderlok – Indraprastha and Tughlakabad – Aerocity + Saket – Lajpat Nagar), so it'll be interesting to see what colors will be chosen as they're quickly running out of easily-recognizable tertiary colors. Perhaps it's time to start using the official line numbers?
For more updates, check out the Delhi section of The Metro Rail Guy!
– TMRG
Hat-tip to S Totlay